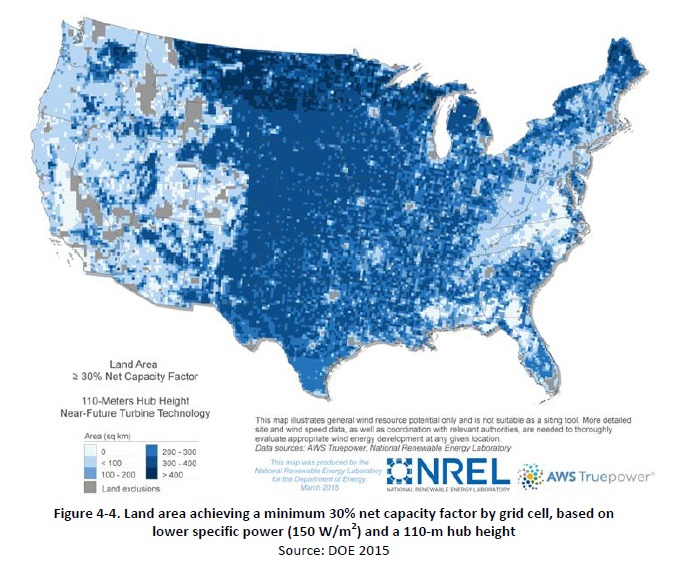 Larger wind turbines could allow the U.S. to access untapped, stronger wind resource areas across the country and lead to wind energy development in all 50 states, according to a new report from the U.S. Department of Energy (DOE).
Energy Secretary Ernest Moniz announced the new report, titled 'Enabling Wind Power Nationwide,' at the American Wind Energy Association's (AWEA) 2015 WINDPOWER Conference and Expo in Orlando, Fla. The study builds upon the recently released 'Wind Vision' report, which quantifies the economic, social and environmental benefits of a robust wind energy future.
'Wind generation has more than tripled in the United States in just six years, exceeding 4.5 percent of total generation, and we are focused on expanding its clean power potential to every state in the country,' said Moniz. 'By producing the next generation of larger and more efficient wind turbines, we can create thousands of new jobs and reduce greenhouse-gas emissions, as we fully unlock wind power as a critical national resource.'
The DOE says the new report highlights the potential for technical advancements to tap wind resources in regions with limited wind development today, such as the Southeast. These new regions represent an additional 700,000 square miles – or about one-fifth of the U.S. – bringing the total area of technical wind potential to 1.8 million square miles.
The report says taller turbine towers of 110 and 140 meters and larger rotors – currently under development by the DOE and its private-sector partners – can more efficiently capture the stronger and more consistent wind resources typically found at greater heights above ground level, compared with the average 80-meter wind turbine towers installed in 39 states today.
At 110-meter hub heights, the DOE expects the land area with physical potential for wind deployment in the U.S. to increase 54%, and at 140-meter hub heights, the potential land area would increase 67%.
AWEA CEO Tom Kiernan applauded Moniz's remarks, pointing out just a few of the ways Americans stand to benefit.
"This report is great news for consumers, job-seekers, rural communities and many others in these states that have yet to fully benefit from American wind power," said Kiernan. "Wind turbine technology has advanced in just a few decades from the Model T era to more like that of a Tesla Model S. Advanced towers, blades and improved electronics to operate and maintain the turbines are all part of this revolution."
"The technological advances described by Secretary Moniz have redrawn the wind resource map, validating the opportunity for all states to host wind development," added Kiernan. "Our domestic wind resource is massive – enough to meet our electricity needs 10 times over – but largely untapped."
The DOE says it supports research and development that has already helped the wind industry install nearly 66 GWof wind power capacity – enough to power more than 17 million homes – and has helped decrease the cost of wind energy by more than 90%. Continuing this technology development is essential to expanding this clean energy source to every state across the nation, the department adds.