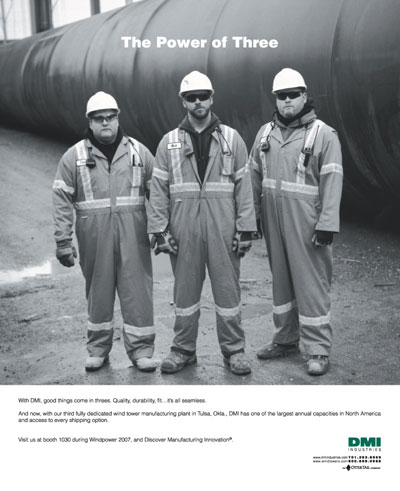 A print advertisement and a series published by West Fargo, N.D.-based wind tower manufacturer DMI Industries have earned awards in the 2007 National Federation of Press Women (NFPW) communication competition.
'DMI 2006 North American Windpower Show Dailies,' a series of three ads that ran in North American Windpower's daily editions during the American Wind Energy Association's WINDPOWER 2006 conference in Pittsburgh, won first place in the Trade Paper Campaign Built Around One Subject, Institutional Or Image category. 'We Sweat Steel,' published in North American Windpower in October 2006, won third place in the Trade Paper Color Or Spot Color Display, Single Ad category, DMI adds.
The awards were presented during the NFPW's recent annual conference in Richmond, Va.