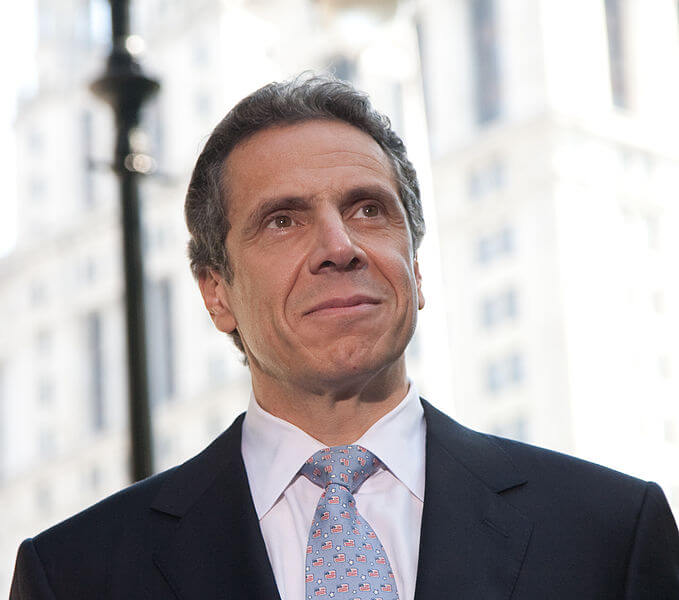 In his 2019 State of the State address on Tuesday, New York Gov. Andrew M. Cuomo laid out ambitious new renewable energy goals for the state, including quadrupling its offshore wind target and doubling distributed solar deployment.
As part of a Green New Deal, Cuomo proposed a mandate of 100% carbon-free electricity in New York by 2040, which, according to the newly re-elected governor, is the most aggressive goal of its kind in the U.S. For comparison, California has a goal of 100% clean energy by 2045. The foundation of New York's 100% goal is upping the state's Clean Energy Standard (CES) from 50% to 70% renewable energy by 2030.
"Let us set the goal: 100 percent clean power by 2040," the governor said in his speech. "Highest in the United States of America."
As described in the State of the State's Social, Economic and Racial Justice Agenda, this "globally unprecedented ramp-up" of renewables under the goal will include as follows:
Quadrupling the offshore wind target to 9 GW by 2035, up from 2.4 GW by 2030;
Doubling distributed solar deployment to 6 GW by 2025, up from 3 GW by 2023;
More than doubling new large-scale, land-based wind and solar resources through the CES;
"Maximizing the contributions and potential" of existing renewable energy projects; and
Deploying 3 GW of energy storage by 2030.
Speaking on the giant offshore wind increase, Cuomo said, "Offshore wind has potential – we know it – [and] the industry is moving that way. We want to locate the industry in this state, and we want to use it as an alternative."
To further spur the offshore wind industry, the agenda also includes investing $200 million in New York port infrastructure, establishing a New York State Advisory Council on Offshore Wind Economic and Workforce Development, investing in an offshore wind training center, and initiating an effort to facilitate the development of an offshore wind transmission grid.
Further, the governor is directing the New York State Energy Research and Development Authority, in concert with the Department of Public Service, to "expand and enhance" the Solar For All program and couple it with "energy-saving opportunities."
In addition, Cuomo announced $1.5 billion in competitive awards to support 20 large-scale solar, wind and energy storage projects in upstate New York. Once permitting and local requirements are met, several projects are expected to break ground as early as this August. All of the projects are expected to be in operation by 2022.
Liz Burdock, president and CEO of the Business Network for Offshore Wind, says the bold new offshore wind goal "sends a clear message to the industry that New York is taking a leadership position in the U.S. offshore wind market."
Also applauding the offshore wind target is Collin O'Mara, the National Wildlife Federation's CEO, who notes that the governor "has boldly raised the bar in America's pursuit of the transformational clean energy opportunity blowing in the winds offshore — and substantial local investments and job creation will follow."
The Solar Energy Industries Association (SEIA) is commending Cuomo for his announcement to double distributed solar deployment (under the NY Sun initiative) and launching a new round of awards.
"His plan to double the NY Sun goal and extend the incentive program will provide much-needed certainty for the distributed solar market," comments Abigail Ross Hopper, SEIA's president and CEO. "Furthermore, the announcement of 16 new large-scale solar awards builds on the 22 solar projects selected last spring.
"Together, these groundbreaking investments in solar energy will create thousands of jobs, generate billions of dollars in investment, and bring clean and affordable energy to the residents of New York state," she continues. "We look forward to working with the governor's office and the legislature to bring New Yorkers all the benefits that solar has to offer."
Calling the decision to double distributed solar deployment a "huge and immediate victory for New York families and businesses," Sean Garren, senior Northeast director at Vote Solar, says, "Achieving an equitable clean energy economy will only happen when all New Yorkers, including low-income families and disadvantaged communities, benefit from the clean energy transition, and we will continue pushing lawmakers and working with allies on the frontlines of this movement to ensure that the transition to clean energy serves all New Yorkers."
Photo: Pat Arnow [CC BY-SA 2.0 (https://creativecommons.org/licenses/by-sa/2.0)], via Wikimedia Commons