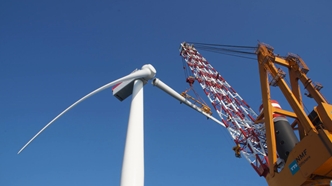 The final turbine of the 600 MW Gemini offshore wind project has now been installed, according to Toronto-based Northland Power Inc., which owns 60% of the project, along with Siemens Financial Services (20%), Van Oord (10%) and N.V. HVC (10%).
Installed by vessels Aeolus and Pacific Osprey, the 150 Siemens 4 MW turbines are in an area of the North Sea where wind speeds are among the highest and most constant in the world, according to Northland, which adds that the turbine installations began in February.
The towers will now be connected and thoroughly tested – a process anticipated to take several months, says Northland, which expects the project to become fully operational in mid 2017.
Once operational, Gemini – located 85 kilometers from the coast of Groningen – is expected to generate enough power to meet the needs of 1.5 million people in the Netherlands, according to Northland.
"The installation of the 150th and last turbine in the wind park is a magnificent achievement," says Matthias Haag says, CEO of Gemini. "This milestone follows installation of the foundations, the offshore high-voltage stations and 210 kilometers of export cables. We are proud of everyone that contributed to the safe and successful construction of Gemini."