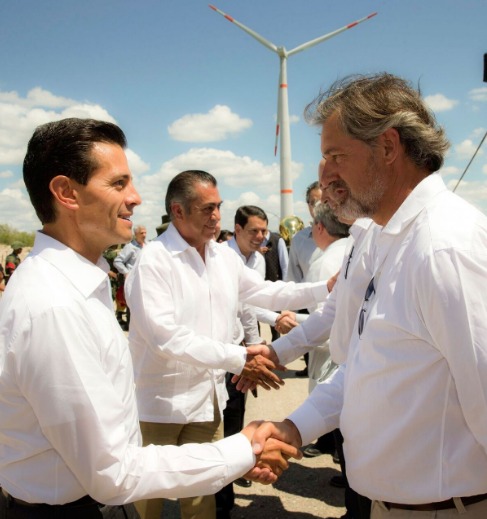 Acciona Energia recently held an inauguration ceremony for what it is calling its biggest project ever built for a client – the 252 MW Ventika wind power complex in Nuevo Leon, Mexico.
Acciona President Jose Manuel Entrecanales and CEO Rafael Mateo attended the ceremony, which was chaired by Mexican President Enrique Pena Nieto.
The Ventika project consists of 84 AW116/3000 wind turbines of Nordex/Acciona Windpower technology. With a nominal capacity of 3 MW, each turbine has a 116-meter-diameter rotor installed on a 120-meter concrete tower.
With average forecast production at around 1,000 GWh per year, the Ventika complex, located in General Bravo, will cover the electricity demand of more than 630,000 homes and avoid the emission of around 961,000 metric tons of CO2 a year to the atmosphere from conventional coal-fired power stations.
The Ventika project was carried out by Acciona under an engineering, procurement and construction contract for a joint venture made up of Blackstone Energy Partners, Fisterra Energy, Cemex and private investors. The consortium recently agreed to sell the asset to the Mexican company IEnova, part of the U.S. group Sempra.
In addition to the engineering, construction and supply of turbines, Acciona will undertake the complex's operation and maintenance for 20 years.
The use of concrete towers for the first time in the Mexican wind power sector is a differentiating feature of the project. The assembly of the 1,848 sections of the wind turbine towers was done in a plant located near Monterrey.
The project involved the laying of more than 388 kilometers of underground cables to transport the energy generated, plus 54 kilometers of tracks to facilitate access to the turbines.
Acciona Energia boasts it owns 556.5 MW of wind power capacity in Oaxaca and intends to build a 168 MW wind farm at Tamaulipas following the latest long-term energy tender.