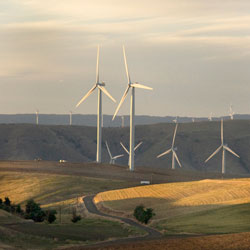 Two years after the ascent of Barack Obama signaled strong support for renewable energy, last week's election results – a Republican-led House and the loss of six Democratic seats in the Senate – present the wind industry with a less-friendly climate.
Industry lobbyists still see ways to make progress, but it won't be easy, and expectations are being scaled back. There is still a chance, for example, that Congress will extend renewable energy tax credits during the post-election lame-duck session. But it may be harder if Congress waits until next year.
Prospects are worse for the passage of a renewable electricity standard (RES). Instead, interest is turning to a 'clean energy standard,' which would apply to conventional fuels as well as renewables, and which key wind lobbyists, in the past, dismissed as unacceptable.
Now the lobbyists are changing their tune.
'[The renewable energy industry] needs to think more broadly and needs to work with other technologies,' Iberdrola Renewables' Rich Glick said last week.
In a sense, the industry's political problems were visible before the 2010 elections. When he came into office, President Obama made green energy and the control of greenhouse gases top-priority items. Although he had the support of Democratic leaders in both the House and Senate, achieving results proved much tougher than expected – neither an RES nor climate change legislation was passed.
Congress did include tax incentives in the stimulus bill that did, indeed, stimulate new wind development at a crucial time. But progress on green energy stopped there.
Now the election has tossed out key wind advocates, such as Gov. Chet Culver, D-Iowa, and brought in more Republicans, many of whom campaigned for smaller government and are skeptical of the promise of renewable energy.
In this altered political landscape, it is less likely that Congress will shower wind energy with more incentives at a time when it needs help. Third-quarter 2010 installations were the lowest since 2007, and the year-to-date total is the lowest since 2006. Denise Bode, CEO of the American Wind Energy Association, is still fighting for the immediate enactment of an RES, but it's clear the industry needs a more realistic survival strategy.
Culver's loss was perhaps the most symbolic – he pushed Iowa into the top tier of wind energy states, attracted manufacturers and spread the pro-wind message nationally as co-chair of the Governors' Wind Energy Coalition.
But his is not the only absence that will be felt. Another pro-wind Midwestern governor, Jim Doyle, D-Wis., declined to run for re-election after pushing through a series of laws favoring wind installations and luring manufacturers to the state. In Ohio, Gov. Ted Strickland, D-Ohio, who worked to pass wind-friendly tax legislation in his state, was defeated by Republican John Kasich.
Back in Washington, the retirement of Sen. Byron Dorgan, D-N.D., removes that chamber's most ardent wind advocate from the political stage. In time, the void in the Senate is expected to be filled by two cousins, both Democrats: Colorado's Mark Udall and New Mexico's Tom Udall. But they are still relative newcomers.
One semi-positive development in the Senate is the probable re-election of Lisa Murkowski, R-Alaska, through an unusually effective write-in campaign (although all the votes have not been counted). Murkowski is the senior Republican on the Senate Energy and Natural Resources Committee, and Democrats consider her somewhat friendly toward renewable energy.
The election was more consequential in the House of Representatives, where Republicans are now in charge. Conservative Speaker-to-be, John Boehner, hails from Ohio, a coal state, and has opposed the RES. But he is not viewed as overtly anti-wind, perhaps, in part, because Ohio has become an important part of the industry in the last few years, with a handful of wind projects under way and more than 170 companies in the wind energy supply chain.
Ohio wind consultant Danya Baird notes that Boehner is 'very aware of Ohio's supply chain base.' She adds that despite the political shifts in Washington and the governor's mansion in Columbus, 'the state's commitment to wind will remain.'
There is little doubt that the switch to Republican leadership of the House Energy and Commerce Committee will turn the committee's agenda upside down. Democratic Chairman and House veteran Henry Waxman of California has been a champion of cap-and-trade legislation and one of those who linked passage of an RES to progress on cap-and-trade. Cap-and-trade is now considered a non-starter in Congress, and Waxman's clout is greatly diminished in the House.
Although the identity of the new Energy and Commerce chairman is not certain, speculation has centered on Michigan's Fred Upton, a conservative who, like Boehner, has renewable energy jobs at home that will help shape his views.
Photo courtesy of Bruce MacGregor Photography