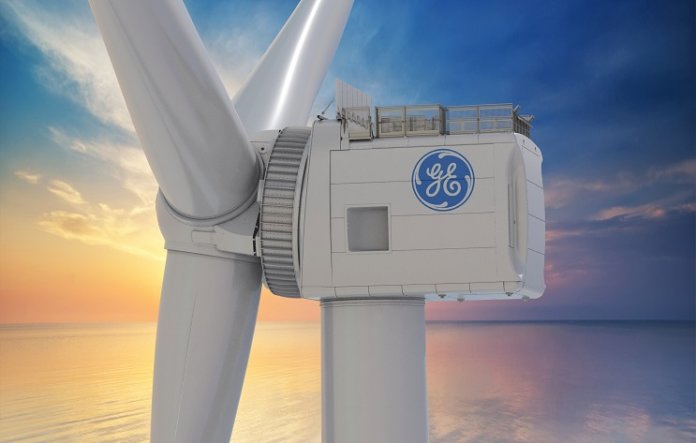 Vineyard Wind, a joint venture between Avangrid Inc. and Copenhagen Infrastructure Partners (CIP), has shipped the first GE Haliade-X turbine from the New Bedford Marine Commerce Terminal to its location more than 30 miles off the coast of Cape Cod.
Foss Maritime, a United States service contractor that provides union jobs for its employees, has partnered with DEME Offshore U.S. to design and build highly specialized U.S.-flagged barges to transport the components to the lease area. The Marmac in New Bedford, Mass., and the Foss Prevailing Wind in Boston, both 400 feet long, are the only two barges in existence capable of transporting in an upright position GE's massive Haliade-X turbine components that when constructed will rise more than 700 feet.
The barges utilize a specially designed Barge Master technology that uses a patented control system and cylinders that support a platform and actively compensate the motions of the barge. The wind turbine components are fastened to the motion compensated platform for a smooth ride in ocean conditions.
GE will initially load the U.S.-flagged Marmac from the New Bedford Marine Commerce Terminal with three vertically placed tower sections reaching more than 200 feet in height, three 321-foot-long blades and a nacelle pod that houses the generating components. Foss will deliver loads weighing more than 1,700 tons each to construction partner DEME Group's Sea Installer vessel with 300-foot-deep legs stationed 65 miles from New Bedford south of Martha's Vineyard.
"Over the past year, we have achieved significant milestones in the development of Avangrid's Vineyard Wind 1, but the installation of the project's first turbine stands as a singular landmark for offshore wind, clean energy, and climate action in the U.S.," says Pedro Azagra, Avangrid CEO. "We are proud that local union labor will pioneer the installation of the massive GE turbines that will harness the winds off the shores of Massachusetts to power more than 400,000 homes and businesses across the commonwealth."
Sea Installer, which measures more than 430 feet in length and 150 feet wide, is a heavy-lift jack up crane vessel that lifts itself out of the water on legs that are over 300 feet in length. Once elevated, the vessel becomes a platform where the recently upgraded crane, now capable of lifting more than 1,600 tons, can install the tower sections, nacelle and blades.
As a part of the project labor agreement, local union labor will be used both on the vessels and onshore at the New Bedford Marine Commerce Terminal. The project estimates that approximately 400 union members have worked on the project to date.
An 800 MW project located 15 miles off the coast of Martha's Vineyard, Vineyard Wind will generate electricity for more than 400,000 homes and businesses in Massachusetts, create 3,600 full-time equivalent job years and save customers $1.4 billion over the first 20 years of operation.
"The installation of the first turbine is another proud moment for CIP and the culmination of years of hard work from our project development and construction teams," says Tim Evans, partner and head of North America for CIP. "The Vineyard Wind project proves that offshore wind is here today and is ready to provide clean energy and jobs for years to come."