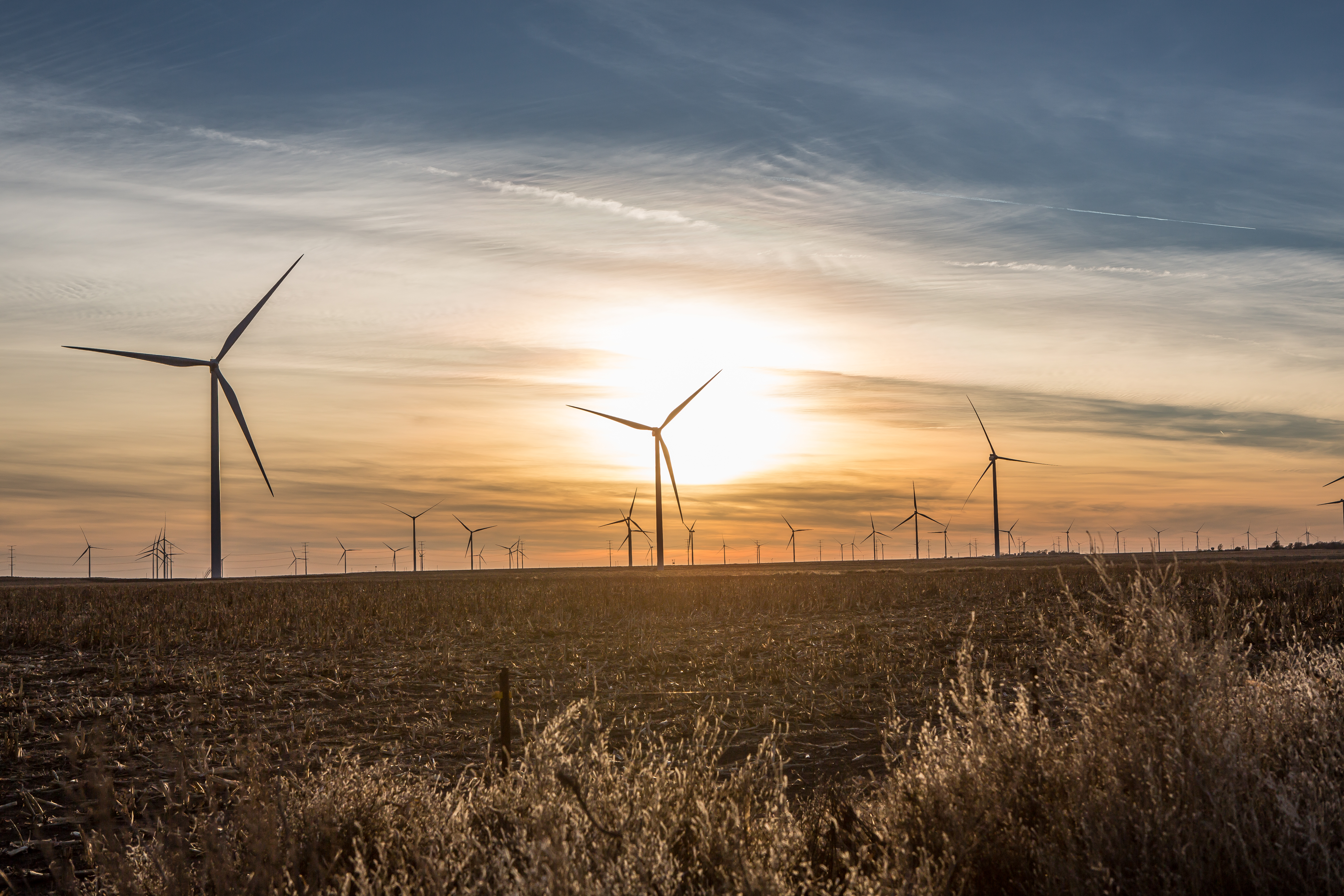 Boosting its wind energy portfolio in Kansas, Enel Green Power North America (EGP-NA) has begun operations at the first half of its 400 MW Cimarron Bend wind project – Enel Green Power's largest wind farm to date.
Representing an investment of nearly $610 million, the Cimarron Bend project extends over more than 60,000 acres in Clark County and features 200 Vestas 2 MW wind turbines.
Construction first began in April 2016 and was carried out in two phases of 200 MW each. In addition to the turbine installation, the project involved the construction of associated access roads, underground collection lines, substations and a 13.5-mile-long overhead transmission line.
This development seems to be good news for Clark County, considering construction efforts used a local workforce and materials. According to EGP-NA, Cimarron is expected to boost the local economy by creating 350 jobs at the peak of construction and up to 12 full-time jobs during operation.
While construction is still underway on the second phase, the first 200 MW officially began operations in December 2016. EGP-NA reports that the remaining 200 MW will be complete by the first half of the year.
Once operational, Cimarron Bend is expected to generate approximately 1.8 TWh of electricity per year, which is enough to power more than 149,000 U.S. households.
According to Chris Hickey, director of business development for EGP-NA, the company acquired Cimarron Bend from long-time strategic development partner Kansas-based Tradewind Energy.
EGP-NA and Tradewind have developed numerous wind projects together throughout the Midwest, including EGP-NA's four other wind projects in the state: Caney River in Elk County, Smoky Hills I & II in Ellsworth and Lincoln counties, and the Buffalo Dunes wind farm in Finney, Grant and Haskell counties.
When it came to Cimarron, EGP-NA decided to make the purchase due to the project's excellent wind resource, its location within a state with an attractive business climate, and its supportive local community, including more than 100 landowners.
Having faced remarkably few obstacles to development, Cimarron Bend is most notable in that it represents some significant milestones for its owner. In addition to being the largest in Enel Green Power's global portfolio, the wind farm is the first of EGP-NA's renewable energy projects to secure a power purchase agreement (PPA) with a corporate off-taker.
Hickey says the project's power and renewable energy credits will be sold under two 200 MW long-term PPAs – one of which has been secured with Google.
Google has been a friend to the renewables industry for years, having signed its first renewables agreement in 2010 to purchase electricity from a 114 MW wind farm in Iowa.
Since then, the Internet giant has made several more renewable energy agreements, publicly promising to triple renewable energy purchases by 2025 and to power 100% of its global operations with clean energy as early as this year.
Consuming approximately 5.7 TWh of electricity annually between its global data centers and offices, Google currently stands as the largest corporate purchaser of renewable energy in the world, boasting nearly 2.6 GW of combined wind and solar energy.
Under the agreement, Google will purchase the power from the first 200 MW at Cimarron, while the Kansas City Board of Public Utilities has agreed to purchase the power to be produced from the second phase.
The project is also noteworthy for another reason, according to EGP-NA, considering how the state of Kansas took such an active role in collaborating with stakeholders to bring Cimarron to life.
Hickey says, "Last year, after the legislative session, Gov. Sam Brownback, citing Kansas's commitment to the wind industry, called on Enel Green Power North America to invest more in Kansas. In part because of Kansas' commitment to encouraging these types of global investments, Cimarron Bend is possible."
Kansas is no stranger to wind development – in fact, the state has taken great strides to encourage significant renewables growth and attract global investment. Considering Brownback's involvement, this project's success appears to be a direct result of the statewide effort.
"Part of what makes Kansas such an attractive place to do business is that Kansas policy-makers have provided tax and regulatory stability that provides investors with great confidence," says Hickey. "The success of this policy framework is displayed by the billions in investments and thousands of jobs that have resulted."
"Our company alone has invested in five projects in Kansas, which together represent over $1.7 billion in total investments," he remarks.
Accordingly, Cimarron Bend enjoys a property tax abatement and, as part of the company's commitment to the community, will contribute $30 million to the local government and local school district over the life of the project.
With the state's enthusiastic support and Google's PPA secured, Cimarron Bend is on track to become a staple for wind energy development in the region.