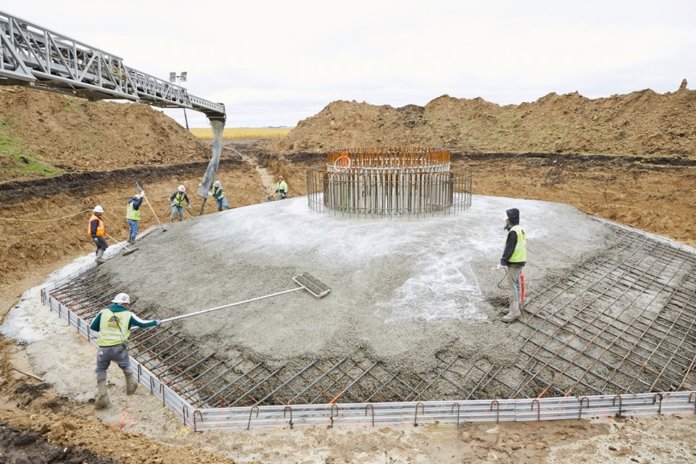 Independent energy company Tenaska closed $158 million in commercial financing for the Nobles 2 wind project, which is under construction in Nobles County in southwest Minnesota.
The Nobles 2 wind farm is owned by Nobles 2 Power Partners LLC, which comprises affiliates of Tenaska and ALLETE Inc., based in Duluth, Minn. In addition to its electric utilities – Minnesota Power and Superior Water, Light and Power of Wisconsin – ALLETE owns ALLETE Clean Energy, based in Duluth; and BNI Energy in Bismarck, N.D.; and has an 8% equity interest in the American Transmission Co.
"This is Tenaska's second wind financing in 2019 that has been well received by the lending community," says Jay Frisbie, Tenaska's senior vice president of finance. "This project is well positioned to meet the needs of our customer when it comes online in 2020 and for many, many years into the future."
Associated Bank, BNP Paribas, CoBank, Credit Agricole and Helaba are providing the debt financing for the project.
Construction of the 250 MW Nobles 2 wind farm, located near Wilmont in Nobles County, began in August. Vestas is supplying 74 wind turbines and will provide maintenance services for the project. Mortenson is the engineering, procurement and construction (EPC) contractor.
Commercial operation is anticipated in 2020. When complete, the Nobles 2 wind farm will deliver power under a 20-year power purchase agreement with Minnesota Power, a utility division of ALLETE.
Construction and operation of the Nobles 2 wind farm is expected to boost the economy in southwest Minnesota. The project will create up to 230 jobs at peak construction and up to 15 full-time jobs when operational, in addition to providing opportunities for local businesses to provide goods and services for the project.
The wind farm is also anticipated to result in increased tax revenue of more than $1.1 million annually to local units of government, as well as diversify land use and provide stable income to landowners through lease payments.
In addition to Nobles 2, Tenaska has another wind farm in construction, the 242-MW Tenaska Clear Creek Energy Center in northeast Missouri.