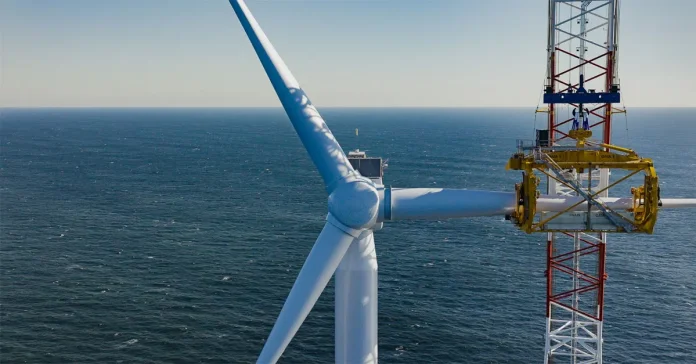 New York's first offshore turbine installation, located at South Fork Wind, has been completed.
Once in operation, the 130 MW offshore farm hopes to generate enough renewable energy to power approximately 70,000 Long Island homes, eliminating up to 6 million tons of carbon emissions. The installation supports the state's Climate Leadership & Community Protection Act goal to install 9 GW of offshore wind by 2035.  
  
"New York is paving the way towards a clean energy future, and the installation of our first offshore wind turbine marks a momentous step forward," says New York Gov. Kathy Hochul. "We are not only generating clean energy, but also pioneering a healthy and safe environment for future generations of New Yorkers. We are shaping a brighter, greener tomorrow, committed to a future where innovation and sustainability go hand in hand."  
  
The first of South Fork Wind's 12 Siemens Gamesa wind turbines was hoisted into place by the offshore construction team at the project site 35 miles off Montauk, N.Y. All turbines are expected to be installed by early next year.  
   
First approved by the LIPA board of trustees in 2017, South Fork Wind began construction in February last year, beginning with the onshore export cable system linking the project to the local energy grid completed early this year. The wind farm reached its "steel in the water" milestone in June with the installation of the project's first monopile foundation. 
  
Once in operation, South Fork Wind will be supported by U.S.-built crew transfer vessels and eventually by the country's first offshore wind service operations vessel.