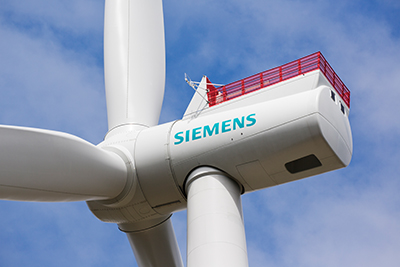 Siemens AG has announced a spin-off of its energy division, which will be combined with Siemens Gamesa Renewable Energy (SGRE).
Siemens Gas and Power (GP) – comprising the company's oil and gas, conventional power generation, power transmission, and related services businesses – will be given complete independence and entrepreneurial freedom through a carve-out and a subsequent public listing (i.e., spin-off). In its most recent earnings report, Siemens noted a "moderate decline" in revenue for its GP business.
Siemens plans to contribute its majority stake in SGRE – currently 59% – to GP. Plans call for the stock exchange listing to take place by September 2020.
Siemens will also give up its majority stake in GP. However, it will remain a strong anchor shareholder in the new company, with a stake that is to be initially somewhat less than 50% and, for the foreseeable future, above the level of a blocking minority holding.
SA decision regarding the spin-off and subsequent public listing will be made at an extraordinary shareholders' meeting, probably in June 2020. Siemens will then de-consolidate both the new GP and SGRE.
"This move will create a powerful pure play in the energy and electricity sector with a unique, integrated set-up – an enterprise that encompasses the entire scope of the energy market like no other company," states Joe Kaeser, president and CEO of Siemens AG.
"Combining our portfolio for conventional power generation with power supply from renewable energies will enable us to fully meet customer demand," he continues. "It will also allow us to provide an optimized and, when necessary, combined range of offerings from a single source."
The company expects the new GP business to have over 80,000 employees.
Klaus Patzak, currently managing partner of the Siemens portfolio companies, has been appointed chief financial officer (CFO) of the new GP business. He will report directly to the business' CEO, Lisa Davis. Via a functional reporting line, he will also report to Siemens' CFO, Ralf P. Thomas.
Patzak returned to Siemens in April this year. He was most recently CFO of Bilfinger SE and previously CFO of Osram Licht AG. For several years, Patzak served, among other things, as head of accounting, reporting and controlling at Siemens AG.
Michael Becker will continue in his current role within the GP business with responsibility for the finance operational activities of the GP operating company.
"Being independent will enable us to more effectively leverage our position of strength to further support our customers in rapidly changing energy markets," says Davis. "Global electrification continues to be vital to economic and environmental progress around the world, and as the only company with a leading portfolio along the entire energy value chain – in both conventional and renewable energy – we are uniquely able to help both public- and private-sector customers benefit from these developments. We'll now have more freedom and agility to be able to concentrate fully on the highly specific and quickly changing requirements of our markets and customers. In addition, we'll be able to more directly control our costs and ensure that our stakeholders benefit directly from every euro we spend."