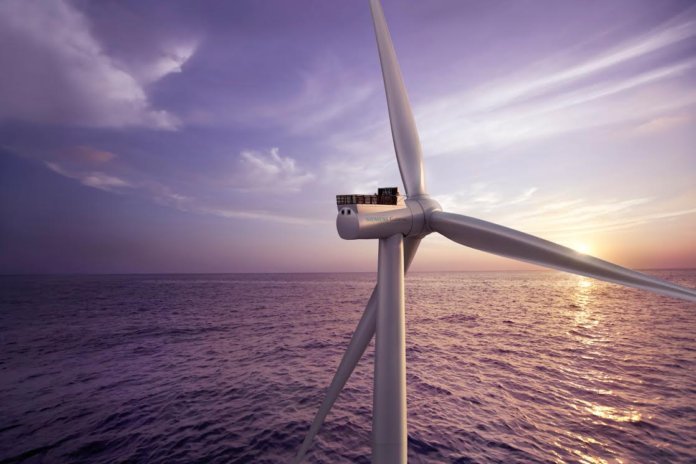 Siemens Gamesa Renewable Energy (SGRE) has been selected by Vattenfall to supply close to 1 GW of turbines at three offshore wind projects being developed in Danish waters. In total, the company will install 113 of its new SG 8.0-167 DD turbines.
Specifically, the company has signed an agreement with Vattenfall for the supply 72 SG 8.0-167 DD turbines at the Danish Kriegers Flak offshore wind project for a total capacity of 600 MW. This will be the largest offshore wind power plant in the Baltic Sea, claims SGRE. The installation of the turbines is scheduled for February 2021, and commissioning is expected for the end of that year.
In addition, SGRE has been selected as the preferred supplier of 41 SG 8.0-167 DD turbines for both Vesterhav North (180 MW) and Vesterhav South (170 MW), located near shore at the west coast of Denmark in the North Sea. Installation of the turbines will start in 2020, and commissioning is scheduled for the end of the year.
The energy production of one Siemens Gamesa 8 MW machine is sufficient to supply about 8,000 European households with electricity, the company says. The power of these 950 MW projects will be sufficient to cover the annual electricity consumption of close to 1 million households.
SGRE and Vattenfall have previously collaborated on several other wind projects, including the 288 MW DanTysk and 288 MW Sandbank offshore projects in the German North Sea, as well as the 110 MW Lillgrund offshore project in the Swedish part of Øresund.
Andreas Nauen, SGRE's offshore CEO, says, "We are pleased that Vattenfall has selected Siemens Gamesa for these projects. The advanced model of our proven direct-drive offshore wind turbine platform and our advanced services will leverage the energy output of these lighthouse projects and help to move offshore wind into the energy mainstream in Europe."