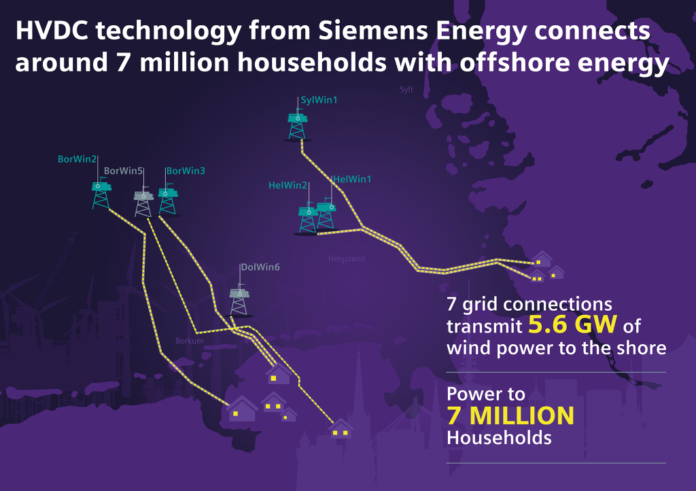 Siemens Energy has agreed to supply the high-voltage direct-current (HVDC) power transmission technology for an offshore connection in the German North Sea.
A corresponding contract was recently signed by German-Dutch network operator TenneT and the BorWin5 Offshore Consortium, consisting of Siemens Energy and Dragados Offshore. 
In 2025, the platform BorWin epsilon, which is part of the BorWin5 project, will begin the low-loss transmission of electricity produced by the EnBW He Dreiht wind farm off the island of Borkum to the Garrel/Ost converter station. BorWin5 marks the seventh HVDC offshore grid connection project undertaken by Siemens Energy in Germany with TenneT.
TenneT awarded a turnkey contract to NKT for the delivery and installation of the cable system for the BorWin5 project. The order comprises the manufacturing of approximately 230 km of 320 kV high-voltage DC on and offshore power cables and accessories as well as offshore installation by the cable-laying vessel NKT Victoria.
"We are especially pleased that we can again join with TenneT to make an important contribution to the decarbonization of Germany's energy supply. The seventh order in the German North Sea underscores the great confidence in our HVDC technology," says Beatrix Natter, executive vice president of the transmission division at Siemens Energy.
"When DolWin6 and BorWin5 begin operation, we'll have installed a total transmission capacity for 5.6 GW of wind power in the German North Sea," Natter adds.
The scope of supply for Siemens Energy and its Spanish partner Dragados Offshore S.A. includes the turnkey construction and installation of the offshore platform in the North Sea and the converter station on land. The offshore converter station will convert the three-phase alternating current produced by the wind turbines into direct current with a voltage of ±320 kV for low-loss transmission to land.
The shoreside converter station in Garrel/Ost will then convert the electricity back into three-phase alternating current for feeding into Germany's power grid. Siemens Energy will supply the HVDC technology required for the project and build the shoreside station, while Dragados will be responsible for the design, procurement, construction and installation of the offshore converter platform.