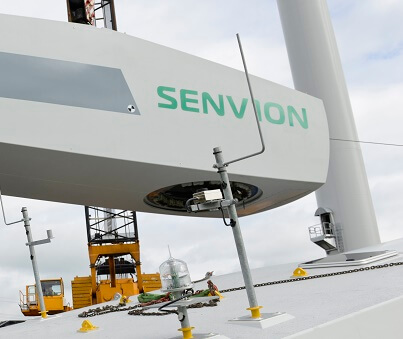 German turbine maker Senvion has received several advanced offers for various substantial core parts of its business. The company says it is now is entering the final stages of a mergers and acquisitions (M&A) process and will present the investor concepts to the creditors' assembly for a vote on Sept. 10.
The company has also put in place financial arrangements to secure ongoing business activities over the timeline to conclude on these offers, including wage and salary payments for all business units.
For the company's wind turbine business, no offers for the entire unit have been received, despite an intensive and global search for a new investor, says Senvion. There are several continuation projects to be completed, meaning that jobs will still be secure for a substantial part of the turbine business workforce for the next few months, with some going into 2020. However, the first layoffs are expected to occur in September and take effect at the end of the year.
In April, Senvion filed a petition to commence self-administration proceedings pursuant to Section 270 of the German Insolvency Code with the competent local court in Hamburg. Additionally, Senvion TopCo GmbH, Senvion's direct parent company, filed a petition for ordinary insolvency proceedings with the court. The company said at the time that refinancing discussions with lenders had so far not come to a positive conclusion.
Then, Senvion, its lenders and main bond holders signed a binding loan agreement, setting forth terms for a EUR 100 million debtor-in-possession (DIP) facility. The facility enabled Senvion to continue its business operations following the self-administration filing. The DIP facility enabled the company to stabilize its business operations and provide funds to its non-insolvent subsidiaries.
Last month, Senvion reached an agreement with its lenders that gave financial support for the continuation of its business until the end of August and potentially for a period thereafter, as long as ongoing talks with lenders could be concluded successfully.
"For the past months, we have been committed to finding the best possible outcome for the company in this difficult situation," says Yves Rannou, CEO of Senvion. "We are now close to having a solution for significant core parts of the business. What is more is that we can keep the business running until the M&A process is concluded. This is possible thanks to the hard work and dedication of everyone at Senvion. I want to thank our employees for their continued trust and support."
The company will continue negotiations with employees' representatives regarding potential social plans and balance-of-interest schemes for the affected workforce, as well as potentially a transfer company for safeguarding an orderly process.