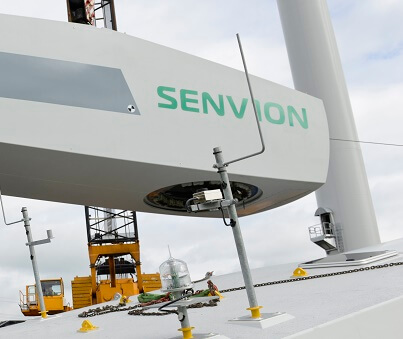 In the first nine months of 2017, Senvion posted revenues of EUR 1.309 billion, representing a decline of 10% amidst a "challenging market environment," the German wind turbine manufacturer says.
The adjusted EBITDA margin was 7.9%, which was in line with Senvion's expectations. Furthermore,the company had EUR 44 million of free cash flow in Q3, mainly due to lower working capital levels.
According to Senvion, the overall slowdown in established markets such as Germany had an impact on the growth of order intake in Q3. Nevertheless, the company was still able to increase order intake by 51% in the first nine months compared with the same period in 2016.
A key highlight of Q3 was the conversion of a 299 MW Chile order to a firm order, the company says. Senvion was able to secure two large conditional orders to the tune of 159 MW. All in all, the manufacturer says its order book remains stable at EUR 5.3 billion.
"Senvion's performance for the first nine months is in line with our guidance," says CEO Jürgen Geissinger. "Our year-to-date order intake has been strong despite worsening industry dynamics. As part of our stated strategy, we are working on powerful new product introductions and transforming our entire value chain with visible successes. The industry not only requires better products but also quicker cost adjustments to deliver lower levelized cost of energy. By improving our supply chain, quality and services over the next several quarters, we are already making progress in this direction."
Senvion introduced four new products in 2017 that are part of the company's modular product strategy, the aim of which is to deliver more efficient turbines and lower lifetime costs.
"We are in the middle of tremendous changes in the wind industry," adds Manav Sharma, chief financial officer of Senvion. "Readjusting electricity prices by up to 50 percent within the last nine months and the shift to auction systems worldwide can only be tackled with innovative products and further focus on cost outs and efficiency improvements. We are seeing the first positive results of our strategy and our efficiency program which we have implemented since the beginning of the year; improved sourcing will help us to lower our variable costs, while the efficiency measures are contributing to decreasing our fixed costs."