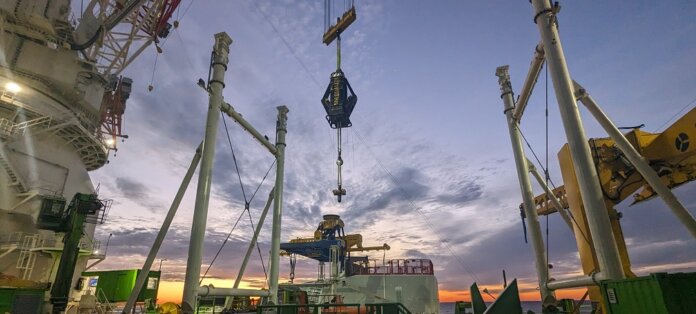 Dutch heave compensation specialist Seaqualize recently executed what it says is the world's first offshore transfer lifts of wind turbine components from a heaving supply vessel.
The company's newly developed offshore lifting device, the Heave Chief 1100, was deployed by DEME Offshore US at the Vineyard Wind 1 project. Together with the feeder barge solution developed by DEME Offshore US with partners Barge Master, Foss Maritime and Seaqualize, and the operators and equipment from GE Renewables, this technology will ensure that the GE Halliade X 13 MW turbines can be installed year-round.
Seaqualize was responsible for executing the fast lift from the barge to the jack-up installation vessel, while compensating for heave motions. The company says this is the first time such delicate but heavy lifts have been done, under safe compensation and with full active heave control.
Seaqualize develops and operates inline balanced heave compensators, a next-generation lifting tool specifically designed for heavy-lift, in-air active load control. Its HC1100 is capable of compensating and fast-lifting 1,100 mT, required to balance turbine components of the 15 MW generation.
Normally such lifts would require extremely flat seas, as re-hits with the heaving barge deck or shock loads to the lifting crane would cause serious damage, the company says. But over the first set of lifts made so far, the HC1100 has shown it can increase the workability of such operations: lifting can continue while the machine continues to fully compensate heave motions up to 3.5 m, and the first lifts showed it can fast-lift full loads at speeds of over 70cm/s (42 m/min).
For the tall tower sections of up to 70 m high, two separate systems by Barge Master further compensate pitch and roll motions.
"We are very proud of these first successful fast lifts and the contract and cooperation with DEME," says Seaqualize Managing Director Gjalt Lindeboom. "In addition, the second Seaqualize Heave Chief – the HC750 – is about to start operations this month on another wind farm installation project ramping up in the U.S. We are currently planning the production of additional machines to support projects in 2024 up to 2026."