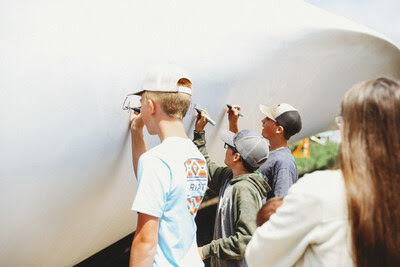 Scout Clean Energy, a Colorado-based renewable energy developer and owner/operator, recently celebrated the ongoing construction of the 200 MW Sweetland Wind Project with landowners, stakeholders and the construction team at a blade signing ceremony outside Miller, S.D.
Sweetland, located in Hand County, S.D., will be owned and operated by Scout Clean Energy.
"We are excited about the progress we have made toward completing this greenfield wind farm project, and we wanted to celebrate this milestone with the construction team, stakeholders and our landowners," said Michael Rucker, CEO and founder of Scout Clean Energy. "Due to COVID restrictions, we were not able to host a blade signing event at Bitter Ridge, another greenfield wind project in Indiana. Now, we are glad we were able to host this blade signing event for Sweetland.
The ceremony was an opportunity to celebrate Sweetland's successful and rapidly advancing construction progress, as well as thank the landowners who have worked in partnership with Scout to bring this renewable energy project to South Dakota. Everyone came together to sign one of the turbine blades that will be installed on one of the project's wind turbines.
"For me to be gathered with all the people who made this project possible is a special moment and another huge milestone for Scout Clean Energy," Rucker added. "None of this would be possible without all the hard work and dedication from everyone at this event as well as the many others who have worked tirelessly to make this blade signing possible."
Scout is installing GE's 2.8-127 series turbines at the project. The company is managing construction of the project, and Blattner Energy is serving as the balance of plant contractor.
Photo credit: Colton Sorrells and Scout Clean Energy