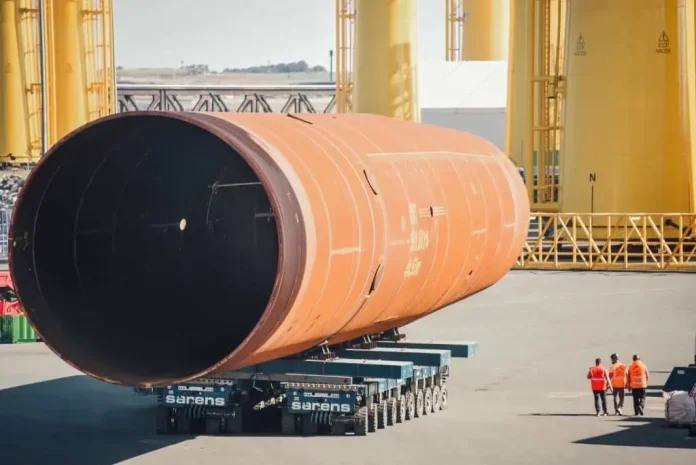 Moray West has selected Sarens PSG, a joint venture between Sarens and PSG Marine & Logistics established in summer 2022, to undertake the marshalling work at Invergordon of all 62 monopiles prior to installation as part of the Moray West offshore wind farm. Ocean Winds, created as a 50-50 joint venture owned by EDP Renewables and ENGIE, is developing the Moray West project.
The monopiles will be the largest and heaviest XXL monopiles ever handled in the U.K., with weights close to 2,000 tonnes. Offloading and marshalling for storage and load out of the monopiles will be undertaken by Sarens PSG using their fleet of self-propelled modular transporters (SPMTs). The monopiles will start to arrive in Invergordon in mid-2023 with installation complete approximately one year later.
The agreement to use Sarens PSG will support the growth plans in Scotland of the new heavy lift and transport logistics joint venture, based out of the Invergordon Service Base. The joint venture offers an extensive heavy lift design and implementation capability together with a broad range of transport and logistics support services to customers in the fixed and floating offshore wind market across Scotland.
"From the successful working with PSG on the Moray East project we are delighted that the capabilities of the Sarens PSG joint venture have enhanced the offering to meet the needs of Moray West," says Pete Geddes, EPC director for Ocean Winds in the U.K. with responsibility for Moray West. "Handling the XXL monopiles will be a first. The track record of Sarens and PSG, together with their large fleet of SPMTs, provided key confidence to make this selection. The ambitious delivery program will mean that from this summer we'll start working with Sarens PSG to offload and marshall the monopiles.
"We hope that this demonstration of confidence in Sarens PSG supports their investment plans to prepare for the wave of ScotWind sites that are in the development pipeline," continues Geddes. "This includes the Ocean Winds 'Caledonia' project that should be in construction well before the end of the decade."
"The combination of strategically located deep-water heavy lift quaysides and vast adjacent laydown combined with Sarens PSG's heavy lift and transport experience, engineering capacities, and market leading equipment provision, makes Invergordon and Sarens PSG the ideal and compelling choice for this project and for the delivery of large-scale storage and marshalling of both fixed and floating offshore wind projects," comments Steve Clark, at Sarens PSG.
"We are delighted to be supporting the Moray West Project team as they move into the offshore construction phase," adds Clark. "Securing this major project allows Sarens PSG to showcase our capabilities and innovative solutions to Ocean Winds and indeed the larger market at this critical time in the energy transition, and we look forward to welcoming the foundation structures to the Invergordon Facility in the coming months."