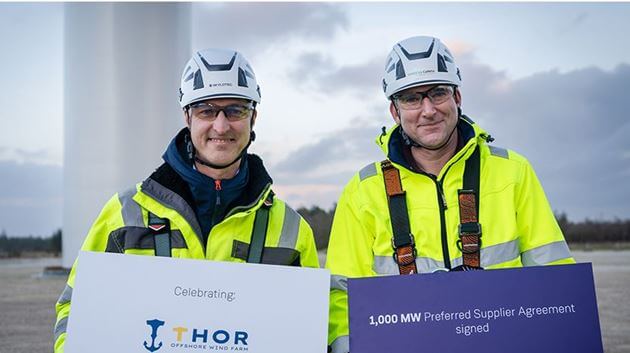 RWE is further progressing with the deployment of Denmark's largest offshore wind power plant to date by signing a preferred supplier agreement with Siemens Gamesa. Seventy-two units of Siemens Gamesa's SG 14-236 DD offshore wind turbines are planned to be installed at RWE's 1,000 MW Thor project. In addition, a service contract for the wind turbines is included. All deliveries are subject to RWE's final investment decision. 
"With Thor, we will massively contribute towards Denmark's ambitious climate targets," says Sven Utermöhlen, CEO of RWE Offshore Wind. "In order to deploy this offshore project, we will rely on our track record of more than 20 years in offshore wind and on experienced suppliers, like Siemens Gamesa, which are committed to working hand in hand with Danish supply chain companies and the local workforce. As RWE, we want to be one of the key drivers of offshore wind energy in Denmark."
"We're thrilled to collaborate once more with RWE, and feel particularly encouraged by the signing of the Preferred Supplier Agreement for the Thor project," states Marc Becker, CEO of Siemens Gamesa's offshore business. "Our partnership already encompasses 12 offshore wind projects in both operation and development, totaling over 5.1 GW of capacity in several countries. Connecting in Denmark today is a testament to our commitment to the country, and to the benefits we all gain from the Østerild test center. Governmental support in all aspects of the wind industry – from projects to support schemes to research and development centers like this one – is critical for our future success."
RWE will build the Thor wind power plant in the Danish North Sea, approximately 22 kilometers from Thorsminde on the west coast of Jutland. Installation of the turbines at sea is expected to begin in 2026. The installation works are planned to be carried out from the Port of Esbjerg, Denmark. Both RWE and Siemens Gamesa intend to utilize the skilled local workforce during the construction and commissioning of the project, both in the harbor as well as offshore.
The SG 14-236 DD is Siemens Gamesa's flagship offshore wind turbine. It features a capacity of almost 15 MW and a 236-meter diameter rotor with an astounding swept area of 43,500 square meters. This allows the SG 14-236 DD to provide an increase of more than 30% in annual energy production compared to its predecessor. It features Siemens Gamesa's patented IntegralBlades, each measuring 115 meters in length. 
For the operation and maintenance of Thor, RWE will set up a service base at the port of Thorsminde.