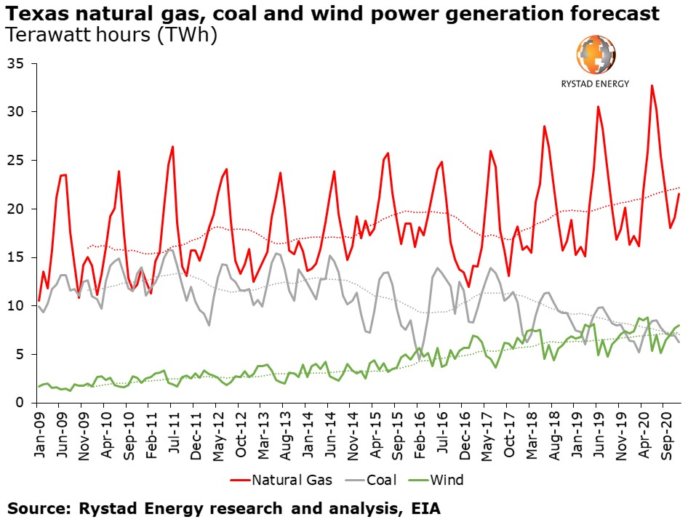 In 2020, the state of Texas is expected to get more of its electricity from wind power than from coal, according to new findings from Rystad Energy, an independent energy research and business intelligence company based out of Oslo, Norway.
Texas has a long history as an energy-producing powerhouse, the firm explains. Propelled forward by the surging shale revolution, Texas now contributes to 40% of total U.S. oil production and nearly a quarter of marketed gas production. However, the Lone Star State is about to break out of its hydrocarbon-rich mold, Rystad says.
"Our forecasts suggest that onshore wind in Texas will generate about 87 TWh of electricity by 2020, versus the anticipated 84.4 TWh from coal," states Carlos Torres-Diaz, head of gas market research at Rystad Energy. "Texas is just one of many Red States that have recently gone green by harnessing their great wind generation potential."
Torres-Diaz adds that renewable technologies are "reaching a level where new installations are not driven solely by policies or subsidies, but by economics."
The global average levelized cost of electricity from onshore wind farms dropped below $0.06/kWh in 2018, according Rystad, citing the International Renewable Energy Agency. This development brings the cost of wind generation down to the lower cost limit of fossil fuel power – explaining why wind capacity has been growing and pushing increasing amounts of coal generation out of the power mix, the firm says.
However, according to Rystad, the future of green energy faces more than just rhetorical headwinds: the production tax credit is set to phase out at the end of 2019.
"Even without government subsidies, wind will likely remain competitive in the Midwest and south-central U.S. markets," remarks Torres-Diaz. "Further expansion in the Rockies and California is likely, as state governments pursue more carbon-friendly energy solutions. However, downside risk to wind could materialize in the Mid-Atlantic and New England states, as the loss of subsidies will make it harder to clinch new market share."