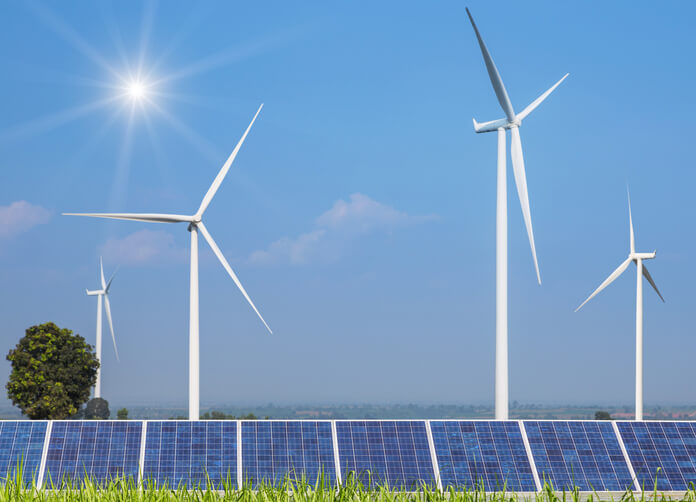 A new DNV GL report examining the world's energy mix in 2050 forecasts that although 85% of global electricity production will come from renewable energy sources, we are still not on course to achieve the climate objectives of the 2015 Paris Agreement.
According to DNV GL's "Energy Transition Outlook (ETO): Renewables, Power and Energy Use," electricity consumption is expected to increase by 140% by 2050 and thus become the largest energy carrier, followed by gas. Other energy carriers, such as coal and oil, will experience significant reductions or only slight increases in consumption.
Furthermore, solar photovoltaics will provide around a third of the world's electricity by 2050, followed by onshore wind, hydropower and offshore wind, respectively, the report says.
In terms of the goals of the Paris Agreement, DNV GL forecasts that humanity will exhaust the 2 degrees C carbon budget (the amount of CO2 that can be emitted without triggering dangerous climate change) by 2041, pointing toward a global warming of 2.5 degrees C above pre-industrial levels – a level likely to force dangerous climate change.
"Our report shows that the energy industry, more than any other, has the power and knowledge to manage the world's carbon budget in a smarter way," states Ditlev Engel, CEO of DNV GL – Energy. "Until 2050, the electricity share of energy demand will grow from 18 percent to 40 percent, yet this transformation is not happening fast enough. Speeding up the acceleration of electrifying sectors like heat and transport will be one vital measure to put the brakes on global warming. The climate challenge is not an engineering challenge but one of governance. We call upon all stakeholders to maximize the electrification of their operations."
There is no single solution for achieving the target of a low-carbon world, DNV GL points out. Instead, multiple achievable actions must be taken both locally and globally, involving collaboration within the energy sector and across industries, according to the report:
Action 1: The greater and earlier adoption of renewables
-Assist the growth of offshore wind
-Drive the uptake of data analysis to optimize performance of wind, solar, grids and energy use
-Invest in cyber security to ensure a robust electricity supply
-Provide flexibility, balancing and cost-effective integration solutions
-Optimize grids to facilitate the growth of renewables
Action 2: Greater and earlier electrification of heat and transport
-Drive the uptake of decarbonization of heat
-Broader adoption of electric vehicles
Action 3: Greater improvements in energy efficiency
-Invest in strategic energy management
Action 4: Change in personal behavior
-Increase the level of public acceptance to shape consumer behavior
-Availability of subsidies
According to DNV GL's overall ETO, the world is approaching a watershed moment as energy demand is set to plateau from 2030 – driven by greater efficiency with the wider application of electricity.
Historically, energy demand and CO2 emissions have moved broadly in line with GDP and population growth, but that relationship will unravel, the report predicts. Electrification, particularly with the uptake of renewables, will change the way in which energy is supplied and consumed. While the global economy and world population are set to grow modestly, energy demand will flatten out, and CO2 emissions will drop sharply.
The report says the global energy transition will occur without a significant increase in overall annual energy expenditure, and on a straight comparison, the world's energy will cost less than 3% of global GDP compared to the current level of 5%.
In addition, despite greater efficiency and a reduced reliance on fossil fuels, the ETO points back to the expectation that the world will fail to achieve the Paris Agreement target.
"Even with energy demand flattening and emissions halving, our model still points to a significant overshoot of the 2 degrees C carbon budget," warns Remi Eriksen, group president and CEO of DNV GL. "This should be a wake-up call to governments and decision-makers within the energy industry. The industry has taken bold steps before but now needs to take even bigger strides."
A copy of DNV GL's report can be downloaded here.