A new coalition established by New York Gov. Andrew M. Cuomo has released a large blueprint for restoring the Puerto Rico's power grid, with a focus on clean energy and resiliency.
The Puerto Rico Energy Resiliency Working Group, which includes a wide variety of power utilities and leading entities in the energy sector, has proposed a 63-page, $17.6 billion plan to rebuild and transform Puerto Rico's electric power system, which was severely damaged by hurricanes Irma and Maria in September.
According to an announcement, the working group's recommendations are based on experience implementing power system recovery, rebuilding and hardening following hurricanes encountered on the U.S. mainland over the last decade.
"In the aftermath of Superstorm Sandy in New York, a plan was immediately put into place to harden and enhance the power grid to ensure storms would not damage our communities in the future – and now is the time to implement a similar plan to ensure these upgrades are also completed in Puerto Rico," says Cuomo. "We need to act now to transform the island's power grid and provide the people of Puerto Rico with a modern and reliable electric system."
In addition to announcing the group's grid plan, Coumo also joined Puerto Rico Gov. Ricardo Rosselló and other officials on Monday in urging Congress to approve a broad, $94.4 billion federal aid package.
The working group's plan, designed to help the island in its damage assessment and power grid rebuild planning, calls for Puerto Rico's new electric power system to be designed with the resiliency to withstand future storms and to be built with modern grid technologies and control systems. The report says the new system would increase renewable generation, such as wind and solar; incorporate new distributed energy resource (DER) technologies, such as energy storage and microgrids; reduce dependency on fossil fuels; and enable energy to become abundant, affordable and sustainable for the people of Puerto Rico.
The proposed plan to rebuild Puerto Rico's grid would cost an estimated $17.6 billion, including an approximately $1.5 billion investment in DERs, as shown in a figure from the report below: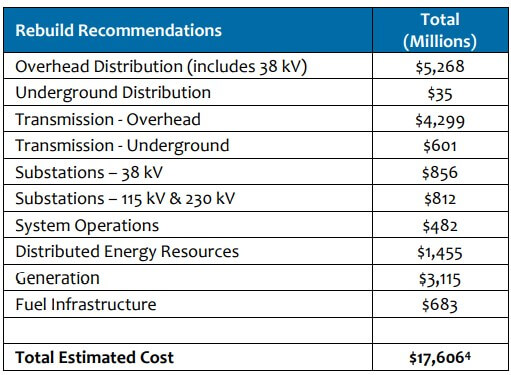 The Puerto Rico Energy Resiliency Working Group, which put forth the plan with the assistance of Navigant Consulting Inc., includes the following members:
New York Power Authority
Puerto Rico Electric Power Authority
Puerto Rico Energy Commission
Consolidated Edison
U.S. Department of Energy
Edison International
Electric Power Research Institute
Long Island Power Authority
Smart Electric Power Alliance
Brookhaven National Laboratory
National Renewable Energy Laboratory
Grid Modernization Lab Consortium
Pacific Northwest National Laboratory
According to the announcement, the development of this plan was undertaken in parallel with New York State's post-hurricane assessment and restoration support to Puerto Rico that began in September. Currently, more than 450 New York utilities workers are on the ground in Puerto Rico, working diligently to repair the island's power grid.
"As we continue to address the challenges of rebuilding Puerto Rico and restoring power to residents across the island, Governor Cuomo and the people of New York are stepping up yet again to provide unwavering support throughout this difficult recovery process," says Gov. Rosselló. "I applaud the actions of the Puerto Rico Energy Resiliency Working Group for developing this plan and creating a critical foundation to rebuild and re-imagine Puerto Rico's electric power system."
In a separate statement, Julia Hamm, president and CEO of the Smart Electric Power Alliance, comments, "The destruction of Puerto Rico's power system is clearly one of 2017's defining events for the U.S. electric power industry – a challenge we must answer."
In addition to serving on the new working group's steering committee, Hamm has also been named one of the 11 founding members of the Puerto Rico Electric Power Authority's (PREPA) Transformation Advisory Council (TAC), a separate group that will provide PREPA with advice on the development of a long-term vision and transformation execution plan for the power system in Puerto Rico.
She says, "[T]he efforts now being undertaken by PREPA and its TAC, the working group, and other key stakeholders will be a defining driver for innovation in system design and resilience in 2018. The breadth of expertise and commitment on the TAC is an enormous resource in and of itself.
"My recent visit to Puerto Rico – talking with people who deeply understand the unique circumstances on the island – underlined the need for a broad, ambitious but pragmatic vision for rebuilding the island's power system," Hamm continues. "I saw so many possibilities for the use of distributed energy resources – including microgrids – to provide solutions to both short-term restoration and long-term system resilience."
The formation of these latest groups follows the November launch of Solar Saves Lives, an initiative led by The Solar Foundation to help coordinate the U.S. solar industry's hurricane-relief efforts in Puerto Rico.
The full Puerto Rico Energy Resiliency Working Group report is available here.