Even though coal and oil are still the world's main energy sources, there is massive support for a green future, according to findings from a new global survey released by Ørsted, formerly DONG Energy.
In the end, eight out of 10 people said that the world should run entirely on renewable energy, as demonstrated in the chart below: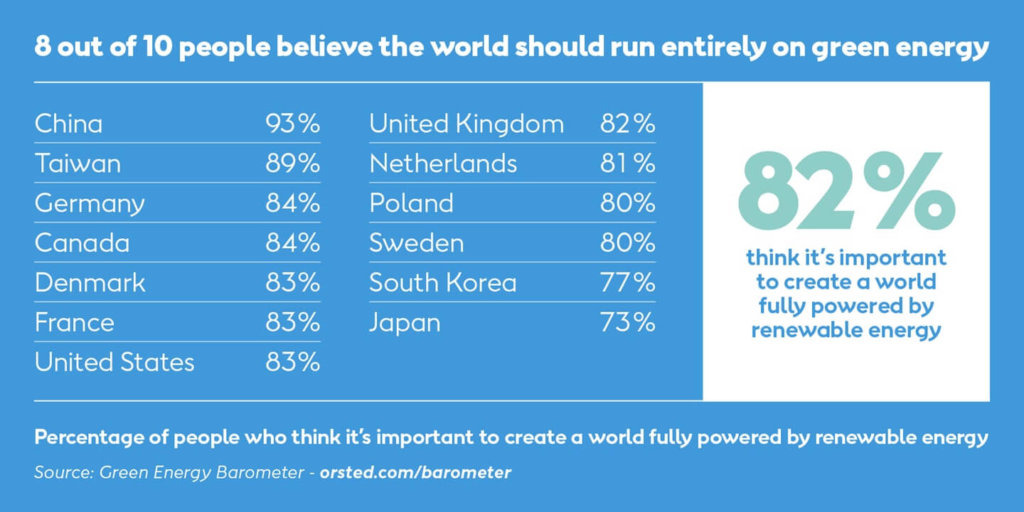 And there's every reason to go full speed ahead, says Henrik Poulsen, CEO of Ørsted:
"We're at a tipping point. Green energy has become cheaper than black, and the newly released Green Energy Barometer shows an overwhelming public support for a shift from black to green. We owe it to the planet and to future generations to transform our energy systems from black to green. And with the economics and public opinion now supporting a shift to renewable energy, there's no reason not to speed up the transformation."
Noting the decrease in price for offshore wind, for example, Ørsted says when it was awarded the Hornsea 2 offshore wind farm in the U.K. this year, it was at a price 63% lower than West of Duddon Sands in 2011.
The company points out that concern about climate change was also a major driver for support of clean energy, according to the survey, which found that 69% of the survey participants said they were concerned about the impact of climate change. However, backing for renewables is also heavily rooted in a range of economic and societal benefits, says Ørsted: More than seven in 10 of those surveyed agreed that if their respective countries were to build and produce more green energy, it would boost economic growth and create new jobs.
In total, 26,401 interviews were conducted in 13 markets: Canada, China, Denmark, France, Germany, Japan, the Netherlands, Poland, South Korea, Sweden, Taiwan, the U.K. and the U.S. More than 2,000 interviews were conducted in each country, and the fieldwork was carried out from July 28-Sept. 1, 2017, by Edelman Intelligence on behalf of Ørsted.
The full Green Energy Barometer can be downloaded here. Ørsted also invites the public to join the conversation on social media with #takegreenaction.