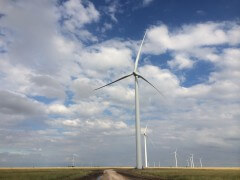 Wind power developer Ørsted has acquired a 100% equity interest in Lincoln Clean Energy LLC (LCE) from I Squared Capital for $580 million.
U.S.-based LCE is a wind farm developer, owner and operator that has built over 500 MW of operating capacity since 2015. LCE is currently constructing a 300 MW onshore wind project and has a pipeline of more than 1.5 GW expected to be completed by 2022.
Ørsted's specialty is offshore wind development, but the company has been expanding into other renewable energy technologies over the last six months.
"We are delighted to announce this transaction, which will provide Ørsted with a strong growth platform in one of Ørsted's strategic growth markets," says Ole Kjems Sørensen, EVP at Ørsted. "With the acquisition of LCE, we acquire an attractive portfolio with a good mix of operating and development capacity."
LCE's existing management team will continue to run the business, which will be a separate unit outside of Ørsted's wind power business.
The transaction is expected to close prior to the end of 2018.
Photo: LCE's Jumbo Road project