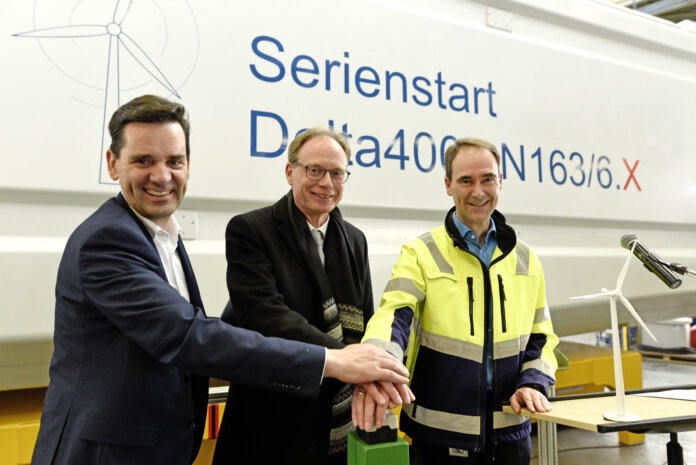 The Nordex Group says it has begun series production of nacelles for wind turbines in the 6 MW class at its assembly plant in Rostock, Germany.
"Just seven months after the installation of the first two prototypes of the Nordex Group's most powerful large turbine to date, the N163/6.X turbines in the 6 MW class are now being produced in series in our German production plant," says Nordex CEO José Luis Blanco. "In the long term, annual output of these large turbines alone is to amount to approximately 1 GW here.
The Rostock plant is currently the only one in the Nordex Group to manufacture and assemble nacelles, drivetrains and switch cabinets for all the company's turbine models, from the 2.4 MW to the 6 MW class
The first 6 MW turbines from the Delta4000 series manufactured in Rostock are going to two projects in the Netherlands, together totaling 102 MW. Nordex says it has received orders amounting to 1.1 GW for the supply and installation of N163/6.X turbines.
The first N163 nacelles, hubs and drivetrains have already successfully passed through the flow production process, optimized for this turbine type, in the Rostock plant in order to ensure a trouble-free start of the series.
"Over the past weeks the whole workforce has been intensively preparing for the start of production for this new turbine," says plant manager Alexander Farnkopf. "These are experienced members of staff, who have been producing nacelles for other Nordex turbines for years. Today we employ around 770 people at the production plant. However, we would like to take on and train around 75 more specialists and welcome them as new colleagues to complement the 2,600 employees we have in Germany today."
Nordex has installed more than 41 GW of wind energy capacity in over 40 markets.