Michael J. Saint James has been appointed lead consultant for offshore operations with Offshore Construction Associates (OCA), an engineering and management consultancy firm that is focused exclusively on offshore construction projects, including wind power.
Saint James and OCA will be present at IPF 2019 in New York, as the company recently established a permanent office in Boston to capitalize on offshore wind opportunities in the U.S., particularly in the Northeast.
Saint James's 40-year global maritime career includes 25 years at sea, along with 15 years in shore-based management and consulting. This included six years in Europe, where he was responsible for a fleet of large jack-up vessels, deploying them to projects including foundation and turbine installation, O&M, and decommissioning assignments. He has also worked with developers to assess the suitability of prospective port facilities and to optimize the vessel-port interface during execution of offshore activities.
Saint James participates in a number of American Wind Energy Association committees, to which he is contributing experience and knowledge from his own involvement with offshore wind in Europe to the rapidly developing landscape of the offshore wind industry in the US.
Working with around 90 other industry professionals, developers, OEMs, regulators and industry bodies, he is providing his expertise in maritime logistics and marine operations, as they work to develop industry-best-practice guidance in the form of a revised AWEA Offshore Construction Recommended Practices (OCRP) for the design, deployment and operation of offshore wind turbines in the U.S.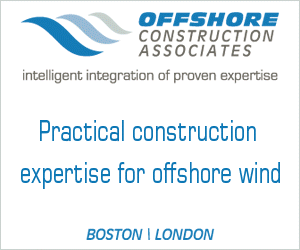 Having been on the ground as the industry in Europe grappled with many of the current challenges facing the same industry in the U.S., Saint James is able to draw on his own firsthand experience, as well as the considerable amount of lessons learned in the broader industry, as Europe transitioned into the global powerhouse of offshore wind innovation it is recognized as today.
Through his network of industry connections in Europe, he is also working to facilitate collaboration with ongoing efforts that are underway there by OEMs, developers and others to continually update and refine recognized best practices as a means of ensuring there is as close alignment as possible between those similar efforts on both sides of the Atlantic. Being able to now also draw on the wealth of experience and depth of expertise that is available within OCA, Saint James is able to further value-add the contribution he is making to the OCRP effort and the offshore wind industry as a whole.
Saint James can be reached at mjstj@offshoreconstruct.com.