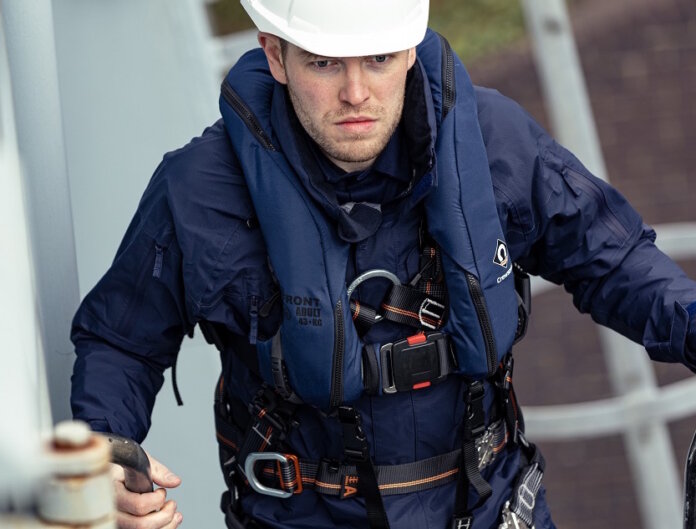 Survitec's lifejacket brand, Crewsaver, a designer, manufacturer and supplier of high-performance survival technology, is launching the ErgoFit SOLAS lifejacket, specifically made for those engaged in challenging tasks on wind turbines and during offshore crew transfer operations.
The ErgoFit SOLAS exceeds the requirements mandated for offshore wind professionals. The comfortable wear-all-day lifejacket offers cross-compatibility with a range of fall arrest harnesses, integrated sprayhood with airway protection and Fusion 3D technology. The contoured fit molds to the shape of the wearer and sits off the neck, giving the user total freedom of movement.
The lifejacket features dual side adjusters to closely reflect the clothing worn, whatever the time of year, plus a padded air mesh internal construction to provide further comfort in warm weather.
In the event of a deployment, potentially from a significant height, supporting an unconscious casualty, the lifejacket excels, thanks to features such as Crewsaver's fast-rotating inflation bladder. The lifejacket rotates an unconscious person face up in just 2.6 seconds, comfortably exceeding the SOLAS standard of four seconds. The ErgoFit SOLAS ensures a freeboard of 125mm is maintained thanks to an inflatable chin support that holds the head up and back, keeping the airway clear.
A specialized offshore wind lifejacket has to perform a number of roles. It needs to offer the wearer high levels of comfort whether on the crew transfer vessel (CTV), accessing the turbine from the CTV or working at height on the turbine. It also needs to be equally capable of providing all-day comfort, whether the technician is operating in freezing temperatures, in fully padded garb, or is lightly dressed for hot and humid conditions.
A fall arrest harness is required for working at height, which is common in the offshore wind industry. The ErgoFit SOLAS lifejacket, combined with varying designs of fall arrest harness, can be used for external work when over water, such as on blades, the transition piece or the monopile. With this in mind, the ErgoFit SOLAS has been designed to integrate perfectly with industry-standard fall arrest harnesses.
The ErgoFit SOLAS successfully secured its SOLAS approval in March 2023 and is currently undergoing additional certifications ahead of its much-anticipated delivery, scheduled for early 2024.