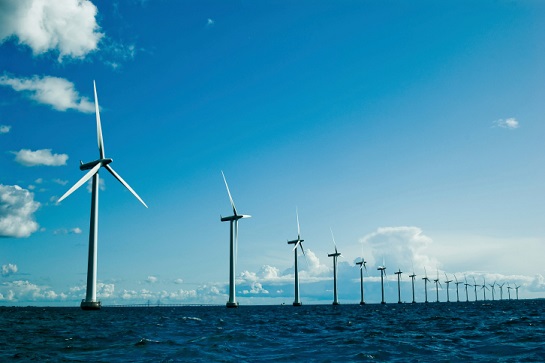 Denmark has once again demonstrated the remarkable strength of its wind resource, producing 98 GWh of energy from onshore and offshore wind turbines over a 24-hour period on Feb. 22 – representing a remarkable 104% of the country's entire energy demand.
The wind on this particular day didn't cause a momentary spike in energy generation, as was the case with the Southwest Power Pool (SPP), which set a new wind penetration record only 10 days earlier, but supplied electricity continuously throughout the day and night.
According to Benjamin Wilhelm, public affairs advisor for WindEurope (formerly the European Wind Energy Association), Denmark's achievement demonstrates that wind is an abundant and powerful energy source and that it is rapidly leveling the playing field in the power sector.
"Success stories – such as this one in Denmark – are a testimony to the innovative European wind industry and show the predictability and power of wind," comments Wilhelm. "[It] inspires other countries to accelerate their energy transition."
In addition to its strong wind resource due to its geographical location, Denmark's wind industry also benefits from wide political support. The country is on track to meet its 50% renewables by 2020 goal and aims to reach 100% by 2050.
Despite lower installation numbers in 2015 and 2016, Wilhelm says Denmark expects to see an uptick in offshore wind development in the next few years, thanks to a project pipeline of over 1.35 GW. In particular, the organization mentions that Horns Rev III, a 400 MW wind farm off the west coast, will begin construction as early as next year and is set to be fully operational by 2020.
As remarkable as Denmark's Feb. 22 achievement may be, it doesn't even approach the country's all-time record.
Notably, although 2015 wasn't a standout year for new installations, on July 10, 2015, Denmark produced a whopping 140% of its national electricity demand from wind power. The country produced so much energy that day that it was able to export generated power to Norway, Germany and Sweden after already meeting its domestic electricity demand.
Fast-forward a few years, and the country is still making progress in the wind sector – including turbine advancements.
Danish manufacturer MHI Vestas recently announced that its new 9 MW prototype at the Osterild Wind Turbines Test Field had broken the energy generation record for a commercially available offshore turbine, having produced approximately 216,000 kWh within a 24-hour period on Dec. 1, 2016.
Larger turbines like MHI Vestas' newest model enable the offshore wind industry to drive down the cost of energy and better utilize the available wind resource.
Parts of the U.S. have also been making good use of their wind resources, such as the aforementioned SPP. The organization set the new record at 4:30 a.m. on Feb. 12, recording a wind penetration of 52.1%.
According to the SPP, this makes it the first regional transmission organization in North America to serve more than 50% of its load with wind energy at a given time. The SPP beat its own previous record of 49.2%, which was set on April 24, 2016.
Considering the massive size of the SPP, which covers a 575,000-square-mile region with 60,000 miles of high-voltage transmission lines, serving more than 18 million people, this is major news for the U.S. wind industry.
For years, it was thought that even 10% wind penetration would threaten grid reliability; but today, SPP officials believe they can manage significantly more than a 50% penetration level, according to a statement from the SPP.
Going Forward
WindEurope is optimistic about wind energy both in Europe and globally and the part it will play in the world's power systems.
"Wind power continues to grow fast across the globe; in Europe, 51 percent of new power capacity in the EU came from wind last year. We expect wind power to become the backbone of Europe's power system by supplying around a quarter of the EU's electricity in 2030," Wilhelm states.
He explains that transmission systems will play a crucial role in Europe's energy transition and in reducing energy import bills.
"The wind is always blowing somewhere, so you need cross-border grids if you want to power all European economies with clean energy," Wilhelm says. "In addition, more interconnectors between countries would allow the transmission operators to balance wind and other renewables over a larger geographical area. This is important for the security of supply."
Wilhelm says that this year is particularly crucial for wind development because the European Commission recently proposed a package of clean energy measures and started negotiations with the European Parliament and governments. The commission's proposals aim to prioritize energy efficiency, promote renewable energy and cut CO2 emissions by at least 40% by 2030.
He continues, "We are hopeful that the final legislation makes the market fit for renewables and gives visibility to investors for the next decade so that our capital-intensive sector continues to flourish – in and outside the EU."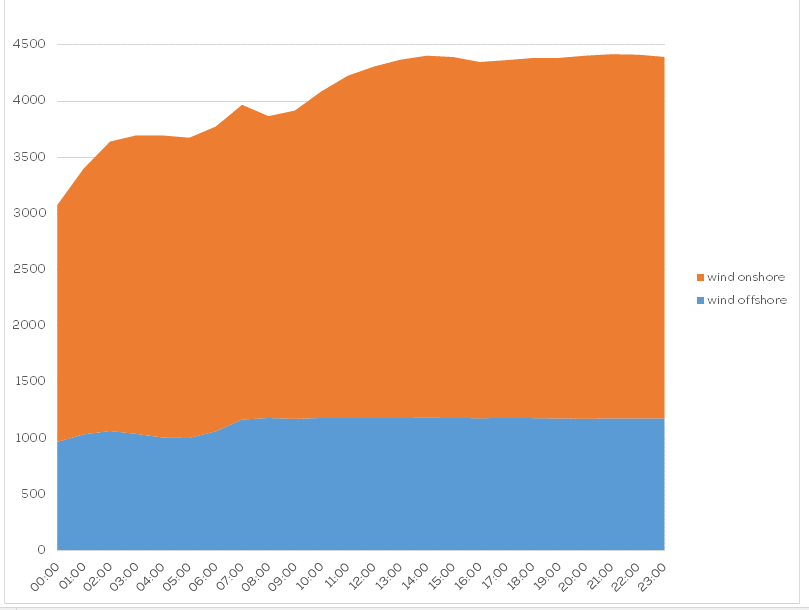 As the chart above shows, wind power supplied electricity on Feb. 22, 2017, not just from dawn to dusk but continuously during the day and at night. Chart courtesy of WindEurope.