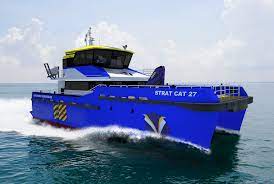 LD Tide, a joint venture between French shipping company Louis Dreyfus Armateurs (LDA) and United Kingdom-based partner Tidal Transit, has ordered a hybrid-ready StratCat 27 (SC27) crew transfer vessel (CTV) from aluminum boat builder Strategic Marine. The SC27 will expand LD Tide's fleet of vessels servicing offshore wind farms.
LD Tide currently owns and manages a fleet of three CTVs to transfer technicians to the Saint-Nazaire offshore wind farm, about 12 miles off the coast of France. The 480 MW wind farm project is owned by EDF Renewables, Enbridge and CPP Investments and began operations at the end of 2022.
The SC27 order is the first the company has placed for a vessel to be built at a non-French yard.
Edouard Louis-Dreyfus, president of LDA, says: "We are excited to be working with Strategic Marine on this new project and are confident the new vessel will contribute to our fleet operations as we position ourselves as a key player of the French offshore wind industry."
The SC27 design, created by BMT, was launched in May 2021. The 89-foot vessel has a hull form that maximizes waterline length, reduces emissions and fuel consumption. It can reach a maximum speed of 26 knots and has room for 24 offshore service/industrial personnel and three crew members.
Strategic Marine recently collaborated with Sea Forrest Power Solutions and Danfoss Power Solutions on a retrofittable hybrid power option. The parallel hybrid system enables reduced main engine hours and maintenance, significantly decreased vessel noise and vibration and, depending on certain factors, a decreased carbon footprint.