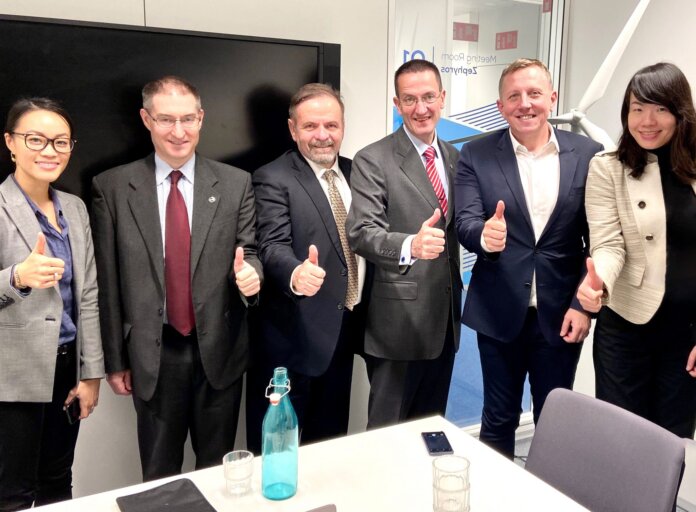 The Global Wind Energy Council (GWEC) and the European Chamber of Commerce Taiwan (ECCT) have signed a memorandum of understanding to develop opportunities and areas for cooperation through joint advocacy initiatives and other activities to boost efforts in driving offshore wind developments in Taiwan.
Both organizations share the view that the promotion and the adoption of sustainable energy are paramount to help Taiwan reduce its carbon emissions and enable the energy transition of the island. GWEC acts as a bridge between the wind industry, policy makers and other stakeholders in emerging markets in order to build new wind markets and reach the world's decarbonization goals.
GWEC and ECCT's Low Carbon Initiative (LCI) have worked together on the annual official industry event for offshore wind in Taiwan, the Global Offshore Wind Summit – Taiwan, that gathers both local and global industry players and policy makers to drive momentum in Taiwan's offshore wind market. Due to travel and other restrictions from COVID-19, the Global Offshore Wind Summit – Taiwan will be held virtually on the original dates of Oct. 12-14.
Through the virtual event, GWEC and ECCT will continue to drive discussions on opportunities and issues facing the offshore wind industry in Taiwan, and provide an exclusive platform to network with industry stakeholders to create new business and growth opportunities.
GWEC and ECCT are confident that their recent agreement will strengthen the future prospects of offshore wind growth in Taiwan by collaborating efforts of both organizations to drive the energy transition in Taiwan through information exchange, organizing official industry events and other mutual advocacy activities to unlock new opportunities for offshore wind in Taiwan.
Photo: GWEC, ECCT have signed an MoU to develop Taiwan's offshore wind