Senior executives from American offshore wind developers Orsted and Eversource recently toured the Edison Chouest Offshore shipyard in Louisiana to see the progress on a 262-foot long offshore wind service operations vessel (SOV).
Edison Chouest is marking the 50% completion milestone – with more than 275,000 work hours logged to date and no lost-time accidents – for the ECO EDISON, a Jones Act-compliant wind farm SOV.
The work on the ECO EDISON is powered by some of the hundreds of millions of dollars Orsted and Eversource are investing into shipbuilding across the Gulf Coast.
"This vessel is a testament to American leadership: Designed and built in the United States; as long as the Superdome is tall; [and is] able to host 60 wind turbine technicians," says Mike Ausere, VP of business development at Eversource Energy.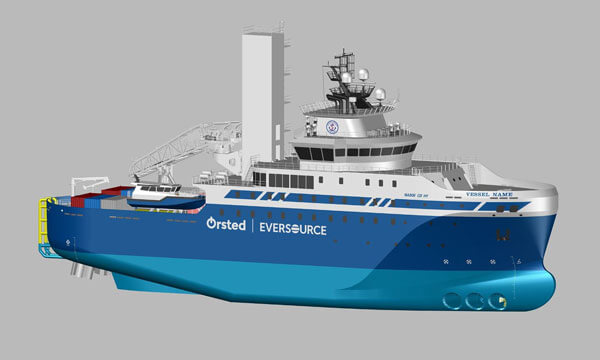 Orsted, Eversource and Edison Chouest expect to christen the ECO EDISON in 2024, and the vessel will play an integral part of the operation and maintenance of Orsted and Eversource's Revolution Wind, South Fork Wind and Sunrise Wind projects, together planned to generate more than 1.7 GW of offshore wind energy, enough to power more than a million homes.
The vessel will be based in Port Jefferson, N.Y.
The ECO EDISON's special-purpose design is focused on passenger safety and comfort, enhanced maneuverability, extended offshore endurance and reduced emissions. It includes special features like a "walk to work" motion-compensated gangway that allows technicians to easily and safely access the wind turbines. A smaller, so-called "daughter" craft onboard can be deployed to efficiently maneuver crew across the wind farms.