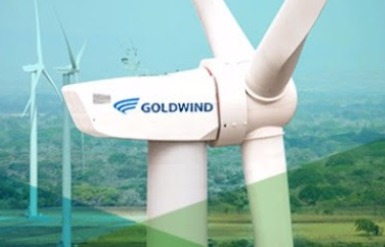 Chicago-based wind technology company Goldwind Americas, a wholly owned subsidiary of Xinjiang Goldwind Science & Technology Co. Ltd., has announced that CEO David Halligan is leaving the company to launch a new renewable energy venture.
The new venture, focused on distributed and digital energy solutions, will look to deploy Goldwind's permanent-magnet direct-drive (PMDD) wind turbine technology as part of its complement of energy solutions.
Halligan joined Goldwind in 2010 as chief financial officer and member of the executive team, charged with launching Goldwind in the Americas. Serving as CEO for the last four years, Halligan commercialized Goldwind's PMDD technology in the Americas wind markets; achieved bankable status for the technology through the closing of milestone financings, such as the tax equity financing of the 160 MW Rattlesnake project in McCulloch County, Texas; and expanded Goldwind's base of installed turbines to approximately 685 MW from Minnesota to Chile.
"I am honored to have had the opportunity to launch and lead the commercialization in the Americas of one of the world's largest and most innovative wind technology companies," states Halligan. "I would like to thank Goldwind Chairman Mr. Wu Gang for the opportunity to work with his company for nearly eight years and for fulfilling his vision of expanding Goldwind globally as an innovative energy technology leader. I look forward to continuing my relationship with Goldwind and value the PMDD technology as an industry-leading wind product."
"I would like to thank David for leading Goldwind's global expansion in the Americas markets," says Chairman Wu. "Goldwind is very well-positioned for continued international growth through the strong efforts of our global teams, products and solutions that meet the needs of an evolving energy landscape and our enhanced data-driven service capabilities. I look forward to continuing to work with David and am excited that Goldwind's PMDD technology will be a key component of his company's business model."
Halligan will assist Goldwind in the transition of leadership by serving in an advisory capacity to the company upon the start of employment of his successor. Halligan will also continue to support the Goldwind brand as it expands into other areas of technology and capital innovation.