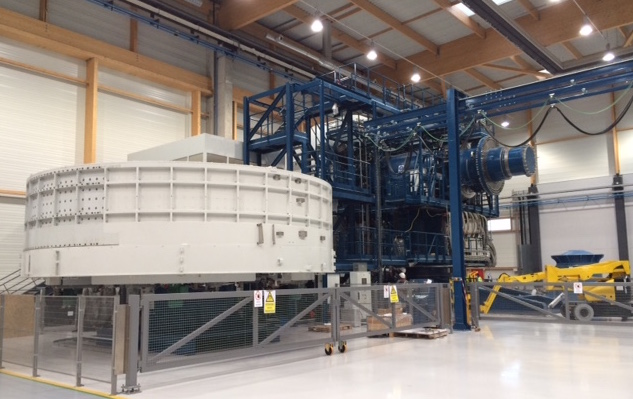 GE Power Conversion says it has completed manufacturing the first serial permanent magnet generator (PMG) at GE's offshore wind factory in Saint-Nazaire, France.
According to GE, this 6 MW PMG is one of the world's largest generators ever built. Its direct-drive system has no mechanical gearbox coupled to the generator, and a low component count increases equipment reliability and, therefore, enables higher energy efficiency and increased turbine availability.
The generator is split into three electrical circuits. In the unlikely event that two circuits go offline, the high level of redundancy enables the turbine to continuously produce power, even in degraded mode. GE notes this is a critical element for offshore wind power plants, seeing as stormy weather and treacherous waters can delay repair work for days or weeks.
The generator will be installed in GE's Haliade 150-6 MW offshore wind turbine in Denmark. According to the company, the turbine's power yield is 15% higher than that of other same-generation wind turbines: Each is capable of supplying 5,000 households per annum.
GE says the power supplied by these turbines will become increasingly cost-effective as the volume of generators coming out of the Saint-Nazaire factory increases.
The factory, which was inaugurated in late 2014, is set up to have a capacity of manufacturing 100 generators per year. For the first series, 300 generators are to be manufactured on-site.
The production site uses an air-cushion system to move generators within the site. In turn, this eliminates the need for cranes within the factory and significantly drives down infrastructure costs, says GE. The site is also equipped with a test bench, thus ensuring every generator coming out of the assembly line is ready to be deployed.
Frederic Maenhaut, renewables executive at GE Power Conversion, says, "The factory in Saint Nazaire is the first offshore wind manufacturing site in France. It is a milestone in the nation's energy history."
He adds, "We developed this PMG technology five years ago. It is ideal for offshore setting – helping increase wind turbines' availability and optimizing energy production."
GE's PMGs have been selected to be installed on Block Island for the U.S.' first offshore wind farm, which will help generate 30 MW of electricity this year.