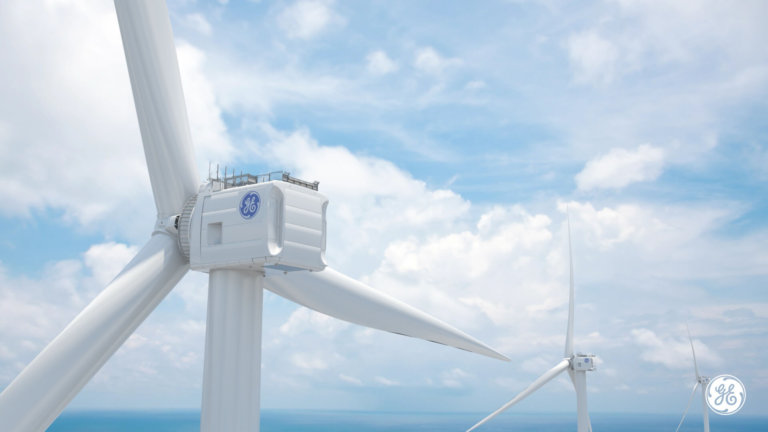 GE Renewable Energy has announced plans to develop what it calls the world's "largest, most powerful" offshore wind turbine, the 12 MW Haliade-X.
GE expects to invest more than $400 million over the next three to five years in developing and deploying the giant machine.
The turbine will feature a 12 MW direct-drive generator and a gross capacity factor of 63%, which compares how much energy is generated against the maximum that could have been produced at continuous, full-power operation during a specific period of time. According to GE, the new turbine's gross capacity factor is five to seven points above the current industry benchmark.
Furthermore, GE claims, the Haliade-X will produce 45% more energy than any other offshore turbine available today (based on wind conditions on a typical German North Sea site).
John Flannery, chairman and CEO of GE, says, "We want to lead in the technologies that are driving the global energy transition. Offshore wind is one of those technologies, and we will bring the full resources of GE to make the Haliade-X program successful for our customers."
Towering 260 meters (853 feet) over the sea – more than five times the size of the Arc de Triomphe in Paris – the Haliade-X will carry a 220-meter rotor. Designed and manufactured by LM Wind Power, the 107-meter-long blades will be longer than the size of a soccer field, says GE.
One Haliade-X 12 MW turbine will generate up to 67 GWh annually (again, based on wind conditions on a typical German North Sea site), which is enough clean energy to power up to 16,000 households per turbine and up to 1 million European households in a 750 MW wind farm configuration.
"The renewables industry took more than 20 years to install the first 17 GW of offshore wind. Today, the industry forecasts that it will install more than 90 GW over the next 12 years," comments Jérôme Pécresse, president and CEO of GE Renewable Energy. "This is being driven by lower cost of electricity from scale and technology. The Haliade-X shows GE's commitment to the offshore wind segment and will set a new benchmark for cost of electricity, thus driving more offshore growth."
To design and build the Haliade-X platform, GE Renewable Energy is relying on a collaboration across the GE portfolio, leveraging the knowledge of GE's onshore wind team, with 50,000 turbines in the field; the blade expertise of LM Wind Power; the GE Power and GE Aviation engineers for peer reviews of component and systems design; the Global Research Center for control systems and component validation; and GE Digital for supporting digital modeling, analytics and app development. The program is a GE-wide effort, the company explains.
GE Renewable Energy aims to supply its first nacelle for demonstration in 2019 and ship the first units in 2021.