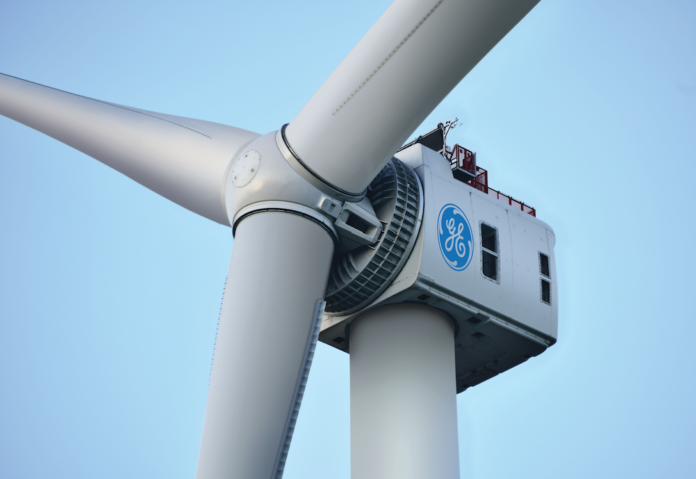 GE Renewable Energy has finalized supply contracts with Dogger Bank Wind Farm, a 50:50 joint venture between SSE Renewables and Equinor, for the first two phases of what will become the world's largest offshore wind farm. These first two phases (Dogger Bank A and B) will each feature 95 Haliade-X 13 MW wind turbines.
The agreements will include a total of 190 units of the 13 MW Haliade-X wind turbine and a five-year service and warranty agreement to provide operational support for the wind turbines. GE's service team will be co-located with the Dogger Bank operations and maintenance team, based out of the Port of Tyne on the U.K.'s northeast coast.
The Haliade-X 13 MW is an enhanced version of the successful 12 MW unit, which has been operating in Rotterdam, Netherlands, since November 2019 and recently secured its provisional type certificate from DNV-GL. The uprated 13 MW Haliade-X features 107-meter long blades and a 220-meter rotor. One spin of the Haliade-X 13 MW can generate enough electricity to power a U.K. household for more than two days.
"We are delighted to take the next step in developing this technology in the market," says John Lavelle, president and CEO of offshore wind at GE Renewable Energy. "We continue to innovate, enhance and develop the Haliade-X platform to meet market demands to deliver offshore wind as a competitive and affordable source of renewable energy. In signing these agreements with Dogger Bank, our Haliade-X technology will now have an important role to play in the U.K.'s offshore wind ambitions (40 GW by 2030) and greenhouse emission reduction to net-zero by 2050."
The service and warranty agreements for the first two phases of Dogger Bank Wind Farm will account for around 120 of the operational and maintenance jobs that will be based out of the Port of Tyne. In addition, GE Renewable Energy has also confirmed that it will establish its marshaling construction team activities at Able Seaton Port in Hartlepool. This port will serve as the hub for all equipment marshaling, installation and commissioning activities, resulting in the creation of an estimated 120 jobs during the construction period. Recruitment activities are likely to begin early next year.
The contracts with Dogger Bank Wind Farm are subject to a notice to proceed from project joint venture partners SSE Renewables and Equinor. Financial close on Dogger Bank A and Dogger Bank B is expected later in the year.
The Dogger Bank Wind Farm is located over 130 km off the north-east coast of the U.K. and will is expected to completed in 2026. Due to its size and scale, the site is being built in three consecutive phases; Dogger Bank A, Dogger Bank B and Dogger Bank C. Each project is expected to generate around 6 TWh of electricity annually.
The Haliade-X platform continues to undergo a rigorous series of tests at the U.K.'s Offshore Renewable Energy (ORE) Catapult testing facility in Blyth, at Boston's Wind Technology Testing Center in the U.S. and at the prototype site in Rotterdam. This prototype unit in the Netherlands, which set a world record in January by being the first wind turbine to produce 288 MWh in one day, will start operating at 13 MW in the coming months as part of its ongoing testing and certification process.
Photo: GE Renewable Energy's Haliade-X wind turbine