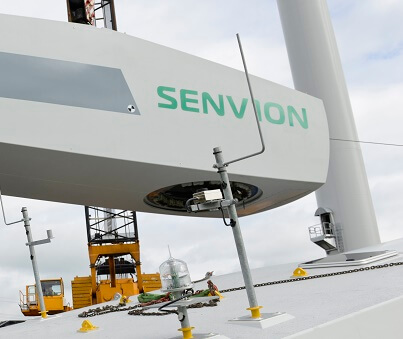 Germany-based wind turbine manufacturer Senvion has appointed former GE and Alstom executive Yves Rannou its new CEO.
The appointment is effective March 2019 at the latest, the company says. Rannou will take over from Manav Sharma, acting CEO and chief financial officer (CFO), who will continue his role as CFO.
Rannou was most recently president and CEO of GE Renewable Energy's hydro division, a position he held starting in November 2015. Previously, he worked for 18 years at Alstom until its acquisition by GE in 2015. During this time, he was senior vice president of the hydro business, as well as senior vice president of the wind business, during which he was in charge of all activities related to onshore and offshore wind. He also served as a member of Alstom's renewable power sector executive committee.
Senvion's former CEO, Jurgen Geissinger, was appointed to his position in December 2015 and resigned in May of this year.
"We are delighted to announce Yves' appointment as CEO given his deep experience working in renewables," states Steven Holliday, chairman of Senvion's supervisory board. "Yves is a proven executive whose skills and expertise ideally complement the existing management team. We are confident that he is the right leader to execute Senvion's growth strategy and position the business for future success."
Rannou says, "I am thrilled and honored to be joining Senvion at a truly exciting time for the wind industry. Senvion has a long and successful track record as a major contributor to the energy transition. Senvion's value proposition, its customers and suppliers, and, most importantly, our team are great assets for further international expansion, sustainable growth and value creation for our partners. I look forward to work together with Senvion's more than 4,000 talented employees to provide clean solutions for our planet."