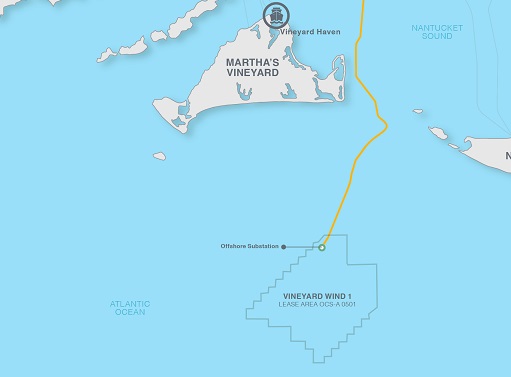 The U.S. District Court in Massachusetts this week upheld important federal approvals for the 800 MW Vineyard Wind 1 offshore wind farm, which is being developed 15 miles south of Martha's Vineyard.
The plaintiffs – Nantucket Residents Against Turbines (ACK RATs) and Vallorie Oliver, a founding member of ACK RATs – brought an action against the Bureau of Ocean Energy Management, Secretary of the Interior Deb Haaland, the National Marine Fisheries Service, and Secretary of Commerce Gina Raimondo alleging that prior BOEM and NMFS decisions approving the project were based on "inadequate environmental assessments in violation of the National Environmental Policy Act and the Administrative Procedure Act."
Specifically, the plaintiffs contended that the agencies' reviews of the project site and turbine layout (62 turbines spread a mile apart from each other) did not sufficiently address concerns related to whales listed in the Endangered Species Act, such as the North Atlantic right whale, along with "sea turtles, fish and the critical habitat for various species that may be present in the proposed action area."
In her decision, U.S. District Judge Indira Talwani found that the plaintiffs failed to show that either agency violated federal law when they issued Vineyard Wind's biological opinion or final environmental impact statement and, in turn, denied the plaintiffs' motion for summary judgment.
"This opinion validates what we've been saying all along: the environmental review process for offshore wind projects is rigorous and effective at ensuring that these projects are built in an environmentally responsible manner," comments Josh Kaplowitz, the American Clean Power Association's vice president of offshore wind.
"The federal government did its job, and they did it well."
ACP notes that the court agreed with the agencies' assertion that the best available science was considered in protecting endangered species and approving the project with a suite of mitigation measures to reduce risk to such species.
"We know that offshore wind farms can be built and operated in a way that protects marine ecosystems," Kaplowitz says. "Now it's time to get steel in the water and start reaping the significant benefits that offshore wind affords."