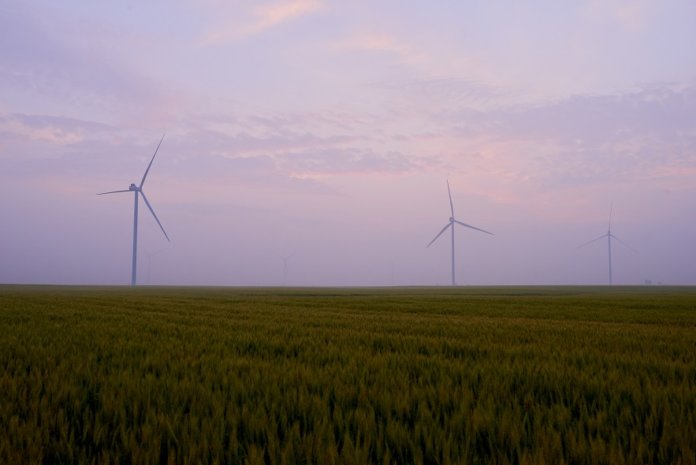 EDP Renewables North America has announced the commissioning of the Meadow Lake VI Wind Farm in northwestern Indiana.
A ribbon-cutting ceremony was held today at the Tri-County Junior-Senior High School, which is situated in the Meadow Lake Wind Farm project area. Attending the event were elected and public officials, landowners, various community members, and representatives from the four companies that jointly hosted the event: EDPR and its off-take partners – Cummins Inc., Nestlé and Wabash Valley Power Alliance.
"Using wind energy to power homes and businesses with clean and renewable energy is becoming more common and creates opportunities for significant economic growth in rural communities like ours," said Indiana State Rep. Sharon Negele, R-District 13.
The Meadow Lake VI Wind Farm is a 200 MW project located in Benton County. The wind farm became operational at the end of 2018 and represents an approximate capital investment of $320 million. Area landowners and local governments are receiving millions of dollars in lease and tax payments, respectively, while construction and ongoing operations of the wind farm have stimulated the local economy through money spent at neighboring businesses. Construction yielded approximately 140 jobs, and several permanent jobs were also added to operate the wind farm throughout its life. The project produces enough clean electricity to annually power more than 55,000 average Indiana homes.
Construction of the Meadow Lake VI Wind Farm was made possible by the execution of long-term power purchase agreements (PPAs) with Cummins, Nestlé and Wabash Valley Power Alliance.
Cummins and EDPR executed a 75 MW virtual PPA, enabling Cummins to power all of its Indiana facilities with the renewable electricity generated by the project.
Nestlé and EDPR inked a 50 MW deal, powering facilities in Pennsylvania producing a range of products across the Nestlé U.S. portfolio. The energy will also power an Allentown, Pa., distribution center.
"Nestlé's partnership with EDPR is a major step forward for our ambition to procure 100 percent of our electricity from renewable sources," said Kevin Petrie, chief supply chain officer for Nestlé USA.
Wabash Valley Power Alliance purchases 75 MW of power from the project, which directly benefits rural electric cooperative members across Indiana.
"EDP Renewables appreciates our partnerships with Cummins Inc., Nestlé and Wabash Valley Power Association, which enabled us to construct the Meadow Lake VI Wind Farm," said Miguel Prado, CEO of EDP Renewables North America. "This year marks the 10th anniversary of our first phase of the Meadow Lake Wind Farm, and we have enjoyed working together with leading companies, supportive landowners and local governments to bring the sixth phase of the project into operation, as well as continue to bring affordable, clean energy and a myriad of economic benefits to Indianans."
The completion of the Meadow Lake VI Wind Farm propels EDPR's operational wind capacity to more than 1 GW in Indiana, which accounts for 43% of the state's installed wind capacity.