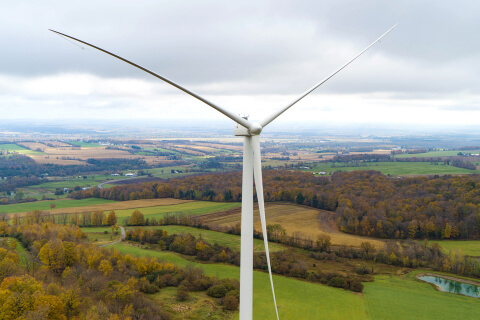 EDF Renewables North America says the 80 MW Copenhagen Wind Project, located in Lewis and Jefferson counties in upstate New York, is fully operational and delivering electricity.
Consisting of 40 wind turbines manufactured by Vestas Wind Systems A/S, the project benefits from a 15-year power purchase agreement with Narragansett Electric Co., a wholly owned subsidiary of National Grid.
Copenhagen Wind supported approximately 200 jobs during the construction phase and saw the investment of $15 million in supplies, equipment, utilities and fuel sourced from local businesses. In addition to the annual $700,000 property taxes to be paid locally, the project has entered a $430,000 Host Community Agreement with the Town of Denmark, as well as another $60,000 Cultural Mitigation Agreement.
EDF Renewables Asset Optimization will perform asset management services to increase project operational performance, as well provide 24/7/365 remote monitoring and diagnostics from its San Diego-based Operations Control Center to increase equipment availability and reduce downtime.