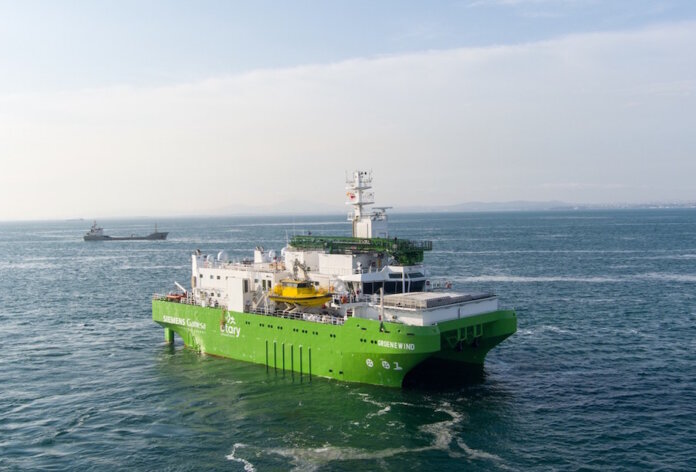 Cyan Renewables, an Asian offshore wind services platform and a portfolio company of fund manager Seraya Partners, has acquired the Groenewind, a state-of-the-art service operations vessel (SOV) in Belgium. The vessel is two years old and is currently operating under a 17-year long-term contract to service offshore wind farms in Belgium. This transaction marks Cyan's first acquisition in Europe.
Completed in 2021, Groenewind was the first twin-hulled DP2 advanced dynamic positioning SOV in the world. Its unique design enables safe crew transfer in significant wave heights and helps it hold its position in rough seas. Smaller and lighter than the average SOV, it needs less fuel to operate and is able to consume up to 50% less fuel than a monohull SOV. The vessel also has a built-in waste heat recovery system and a motion-compensated gangway and daughter craft, which provide safety and comfort to its 24-member crew and technicians.
Cyan is fully owned by Seraya Partners and was created by the fund in 2022 to address the increasing demand for offshore wind vessel services in Asia. Cyan is led by Kenglin Lee (Group CEO), Lars Zohner (Europe CEO) and a team of marine and renewables veterans in Singapore and Denmark.
The Groenewind acquisition is part of Cyan's plan to build and acquire a fleet of service operations vessels, cable-lay vessels, and wind-turbine installation and foundation installation vessels during the coming years.
"We have been in the offshore wind services industry for over 20 years and serviced more than 50 offshore wind farms. We are a trusted partner for wind farm developers and owners," says Cyan Renewables Group CEO Kenglin Lee. "Combining our track record with Seraya resources, we plan to operate a $1 billion fleet over the next three years in Asia and Europe."