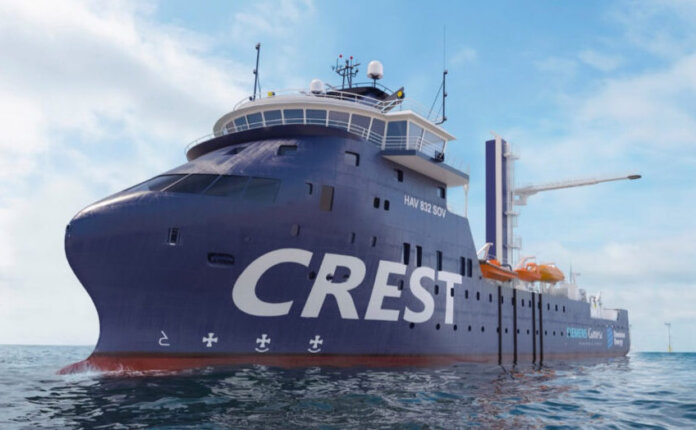 Fincantieri Bay Shipbuilding has begun construction on a 289-foot service operation vessel (SOV) for a Crowley–ESVAGT joint venture that will house and transport technicians to maintain offshore wind farms in the United States.
This vessel for the joint venture, CREST Wind, will operate under a long-term charter with Siemens Gamesa Renewable Energy.
SOVs are purpose-built vessels used to accommodate and transport wind-farm technicians to service and maintain wind turbines at sea. Crowley is a U.S. maritime, energy and logistics solution company serving the offshore wind market, while Denmark-based ESVAGT is a provider of SOV services in Europe.
"We are delighted to help bring a leading SOV concept to the U.S. market together with our partners and are looking forward to supporting the high-quality construction of this innovative vessel," says Kristian O. Jakobsen, ESVAGT's deputy CEO and head of operations.
The SOV will feature state-of the art technologies that augment safety, workability and comfort to support the operation and maintenance of wind installations. It will have modern accommodations for 80 crew and technicians. Consistent with federal law, the vessel will be U.S.- built and flagged. The ship will utilize the HAV 832 SOV design, made by HAV Design AS, of Norway, considered one of the best in the industry.
The vessel is scheduled to enter service in 2026, when it will support the Coastal Virginia Offshore Wind Project.