On Friday, March 17, the Manthala George Jr. Elementary School in Brockton, Mass., held its own "Clean Energy Activity Day," at which students not only were introduced to wind power and its technology, but also were able to build wind turbines of their own.
Thanks to the Massachusetts Clean Energy Center (MassCEC), this elementary school is the first institution of six across the state to hold the educational event.
As part of its broader mission to promote clean energy technologies, companies and projects in the state, MassCEC developed the Clean Energy Activity Day program to educate and engage students about various clean energy topics and industries, including wind power.
Having previously organized similar events for high school students, MassCEC saw the benefits of familiarizing younger students with clean energy technologies. As a result, this pilot program was designed for students in kindergarten through eighth grade and specifically aims to provide an interactive, hands-on experience that the students will consider as they continue their education.
According to Tamika Jacques, leader of the Clean Energy Activity Day program and MassCEC's director of workforce development, the goal of the activity day is to expose students to clean energy concepts; science, technology, engineering and math (STEM) topics; and higher-education opportunities.
In order to organize the program, MassCEC put out a request for proposals (RFP) last September, offering either $8,000 or $10,000 grants to all public and private schools in the state that could design and deliver their own one-day specialized Clean Energy Activity Day for elementary and middle school students, either at the students' current place of education or at a clean energy business or organization.
As part of the RFP, MassCEC required the schools to showcase clean energy equipment or models that can be directly touched and seen by students.
During the first week of January, MassCEC presented funding grants to six Massachusetts schools – in Brockton, Fitchburg, Milton, Auburn and two in Boston – to carry out their own version of Clean Energy Activity Day.
The awarded schools then began carrying out their plans to work with guest speakers from clean energy businesses who would present on their personal career, the types of classes needed to work in clean energy, and higher-education and career pathways that lead to the clean energy workforce. According to Jacques, this initiative was developed to make students aware of those kinds of opportunities, especially those in their geographic region, and to encourage interest in the clean energy sector for the next generation.
As designed, Manthala George Jr. Elementary planned its activity day for fourth- and fifth-grade students, with the objective of "improving students' understanding of clean energy sources and the benefits of using alternative energy sources," featuring individual work stations where students could experiment with wind turbines, solar ovens and magnetism, as well.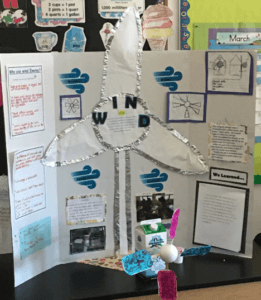 Held from 9:30 a.m. to 3:00 p.m. on March 17, the event was sponsored by KidWind Umass Lowell, ECA Solar, Boston Museum of Science, and the Stonehill College Environmental Science Department, in addition to MassCEC.
According to Jacques, students at the George School used the Boston Museum of Science's "Catching the Wind: Designing Windmills – Engineering is Elementary" kit to construct sample wind turbines, using milk cartons, wooden dowels, paper cups and Styrofoam balls. After the students experimented and discussed, they were able to take their projects home.
Jacques says, "Students were engaged to think as a mechanical engineer to use their understanding of air and wind to design and create the wind-powered machines."
As one of the designated guest speakers for the George School event, UMass-Lowell professor of energy David Willis gave a presentation on wind power and its benefits, demonstrating specific processes that create clean energy, such as wind rotation, before wrapping up the event.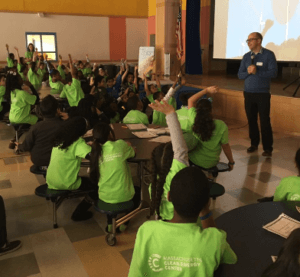 Willis presented on behalf of KidWind, a project initiative that helps both students and teachers learn about wind energy – notably through the KidWind Challenge, which is coming to the American Wind Energy Association's WINDPOWER 2017 Conference & Exhibition next month.
Jacques notes that KidWind will also be a part of the Mario Umana Academy's Clean Energy Activity Day, as well, which is scheduled to take place on May 25.
"The response to the Clean Energy Activity Day has been amazing," Jacques says. "Students are excited to have a hands-on learning activity, and teachers are happy to provide the experience to their students.
"It's important for students to know that the clean energy industry is a viable industry that can provide economic stability for themselves and their families," she continues. "The industry in 2016 saw over 45,000 new jobs added – a 75 percent increase since 2010 – and over 70 percent of those jobs have a starting salary of $50,000."
Photos courtesy of MassCEC's Twitter account.