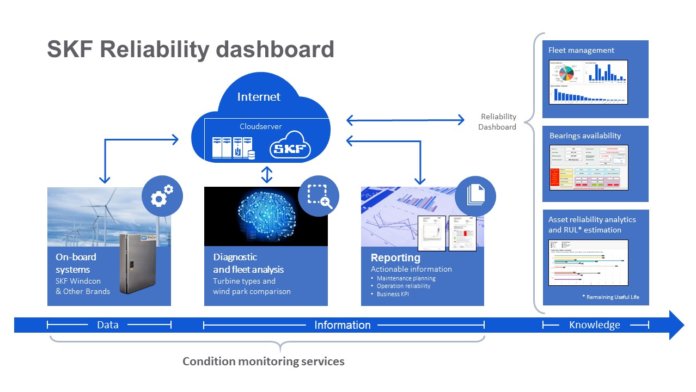 SKF and Boralex have partnered to develop a dashboard designed to help wind farm operators better monitor turbines.
The dashboard is expected to help improve operators' ability to reduce costs and make long-term planning decisions based on data.
The Wind Reliability Dashboard is an evolution of SKF's current condition monitoring and predictive maintenance tools. It extends existing capabilities by allowing data to be captured and analyzed from all forms of rotating systems in each turbine – from both SKF and other condition monitoring system (CMS) providers.
The dashboard is currently being tested in the field by Boralex.
Jerôme Gardyn, CMS analyst at Boralex, says, "We have been working closely with the SKF engineers on every step of the project from the definition of functional needs, through the core development of the device, to real-life condition tests, in order to help SKF refine the dashboard model."
Jonathan Day, head of analytics and digitalization development for SKF, adds, "Wind farm operators are under increasing pressure as growing numbers of turbines fall out of warranty and as market price for renewables gets more and more challenging. Identifying ways to reduce OPEX and protect margins is therefore crucial. This is the driving factor behind our Wind Reliability Dashboard, which will help each operator improve the efficiency of their business. The dashboard allows operational and business management teams to communicate far more effectively about critical turbine maintenance and planning issues. It also makes it easier to identify and predict drivetrain issues, manage spare parts logistics, and reduce risk by enabling data-driven decision-making."