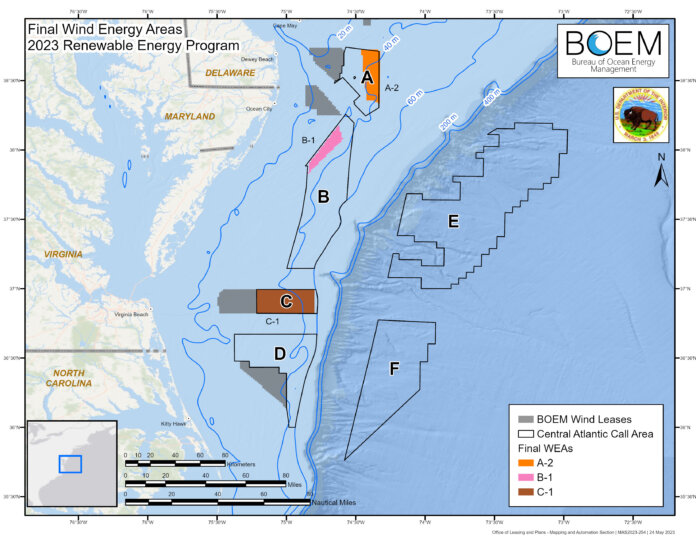 In furtherance of the Biden-Harris administration's goal of deploying 30 GW of offshore wind energy capacity by 2030, the Bureau of Ocean Energy Management (BOEM) has finalized three wind energy areas (WEAs) in the waters off Delaware, Maryland and Virginia, which were developed following extensive engagement and feedback from states, tribes, local residents, ocean users, federal government partners and other members of the public.
If fully developed, the final WEAs could support 4 GW to 8 GW of energy production.
The three WEAs total approximately 356,550 acres. The first (A-2) is 101,767 acres and located 26 nautical miles (nm) from Delaware Bay. The second (B-1) is 78,285 acres and about 23.5 nm offshore Ocean City, Md. The third (C-1) is 176,506 acres and located about 35 nm from the mouth of the Chesapeake Bay, off the coast of Virginia.
A map of the final WEAs can be found on BOEM's website.
BOEM's next step is to prepare an environmental assessment of potential impacts from offshore wind leasing in the WEAs. It published its intent to do so today in the Federal Register, which now initiates a 30-day public comment period. If BOEM decides to move forward with a lease sale in any of the WEAs, another public comment period would occur.
The final WEAs are in comparatively shallow water. BOEM may identify additional WEAs in deep-water areas offshore the U.S. Central Atlantic coast for future leasing once further study of those areas has been done.
Josh Kaplowitz, vice president, offshore wind of the American Clean Power Association (ACP) comments on BOEM's decision: "Maximizing leasing in the Central Atlantic is critical to meeting current and anticipated federal and state offshore wind goals and building a durable regional supply chain. As the demand for clean electricity grows on the East Coast, leasing must keep pace. These WEAs are excellent areas for offshore development that could serve the population centers in this region. Additionally, ACP supports a second round of leasing in the Central Atlantic within a year of this upcoming sale focused on both shallow water and deep water areas."