A national lab study says the expected useful life of U.S. wind projects has increased to 30 years.
The findings come from a new paper entitled "Benchmarking Anticipated Wind Project Lifetimes: Results from a Survey of U.S. Wind Industry Professionals," published by the Electricity Markets & Policy Group at the Lawrence Berkeley National Laboratory (Berkeley Lab), a U.S. Department of Energy (DOE) office managed by the University of California.
Following a survey of wind industry experts, the researchers found that most wind project developers, sponsors and long-term owners have increased project-life assumptions from a typical term of approximately 20 years in the early 2000s to approximately 25 years by the mid-2010s and now, more recently, approximately 30 years. Current assumptions ranged from 25 to 40 years, with most respondents citing 30 years, as seen in Figure 1 below.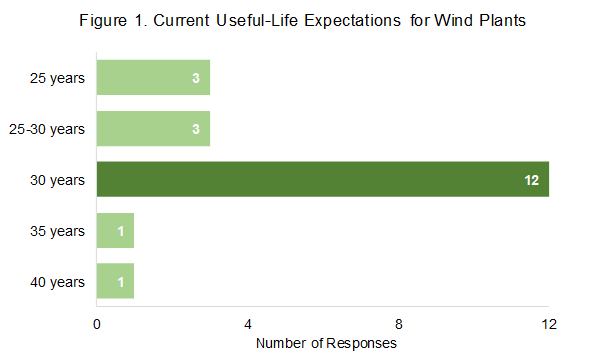 According to the researchers, key enablers of longer assumed project lives are technology advancements, along with improved understanding of performance, wear-and-tear and O&M practices. Another driver is the increasing desire to capture project value beyond the 10- to 20-year term of an initial power purchase agreement.
Assuming a 20-year project life, the estimated average levelized cost of energy (LCOE) for new wind projects built in 2018 is $40.4/MWh. With a 25-year useful life and no change in assumed O&M expenditures or wind plant performance over time, the LCOE declines by 10% to $36.2/MWh. At the now-common 30-year assumed life, levelized costs decrease another 7% to $33.5/MWh. Even longer assumed lifetimes lead to further – but diminishing – LCOE reductions (as seen in Figure 2 below). These calculations simplistically assume that O&M costs only scale with inflation regardless of useful life and that performance does not degrade over longer time periods. Consequently, the analysis overstates the benefits of extended project lifetimes, though it is still suggestive of a potentially significant LCOE reduction, the researchers say.
Though these extended useful life assessments are underpinned by increasingly sophisticated engineering and economic analyses, says Berkeley Lab, the actual useful lives of wind projects cannot be known in advance. It will ultimately depend on how O&M requirements and practices change as projects age, as well as on future wholesale power price developments.
The Berkeley Lab report on project life can be found here. This follows from a study completed earlier this year on operational expenditures for land-based wind, which can be found here. The research was funded by the DOE's Wind Energy Technologies Office.