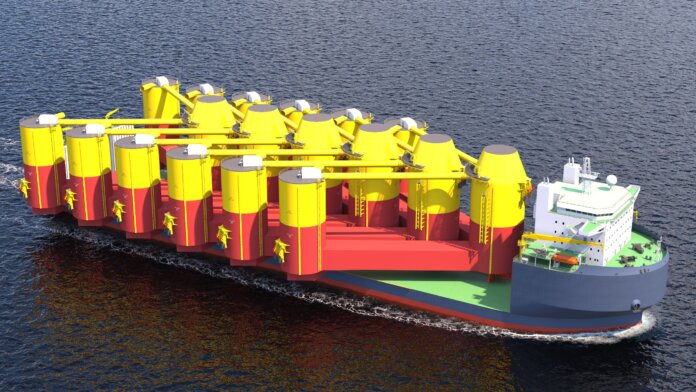 In accordance with applicable rules and regulations and specified class notations, Norway-based registrar and classification society DNV has carried out a review of Bassoe Technology's 17 MW D-Floater floating wind foundation and has awarded it an approval in principle (AiP).
Headquartered in Sweden, Bassoe Technology is a designer of advanced mobile offshore units, such as semi-submersibles and drillships, as well as floating wind foundations.
The D-Floater, a three-column, semi-submersible unit with a Delta-shaped pontoon configuration, allows the stacking of foundations inside each other, facilitating transport of multiple completed foundations on a single, heavy-lift transport vessel and efficient storage in the marshaling port.
With a tow-out draft of less than 32 feet with the turbine installed, the D-Floater is intended to allow flexibility in "assembly port" selection and to allow quayside installation of the tower and turbine closer to the wind farm. It is also constructed to withstand extreme 50-year typhoon conditions in the South China Sea.
"The D-Floater is designed for cost-efficient fabrication and logistical solutions to meet the growing demand for renewable energy," says Li MingGao, chairman of the board of Bassoe Technology and vice president of its parent company, CIMC Raffles. "We are ready to support our clients in their future large-scale floating wind developments."
The AiP verifies that the D-Floater's design is feasible for the intended application and, in principle, complies with the applicable requirements in accordance with DNV rules and standards.
"Floating offshore wind is a highly innovative sector that is developing rapidly and is vital to the energy transition. But to develop and rollout the required technologies and infrastructure, we need to have a foundation of trust, built upon rigorous and evolving technical standards," says Torgeir Sterri, DNV's director of offshore classification. "At DNV we are continuously developing our rules and standards, enabling forward-looking partners like Bassoe Technology to push technological boundaries on the basis of trusted assurance."