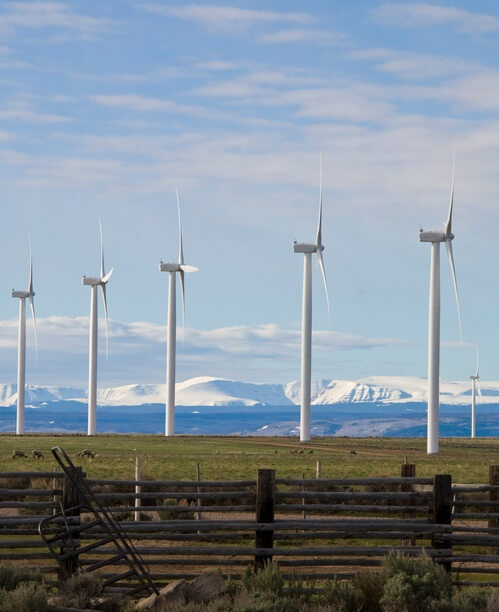 Strong demand for wind energy drove a busy first quarter for new U.S. wind announcements, according to the American Wind Energy Association's (AWEA) newly released U.S. Wind Industry First Quarter 2018 Market Report.
Utility and non-utility wind energy customers signed over 3,500 MW in long-term power purchase agreements (PPAs) in the first quarter; that's the highest volume of PPA announcements in any quarter since AWEA began tracking them in 2013. Six companies, including Adobe, AT&T and Nestle, signed wind PPAs for the first time, while Bloomberg, Facebook, Nike and T-Mobile became repeat customers. In addition, utility buyers, including PacifiCorp and DTE Energy, made large-scale announcements to develop and own wind power.
Across the country, 36 wind projects representing a combined 5,523 MW announced that they either began construction or entered advanced development in the first quarter. Construction started on 1,366 MW of wind capacity, and 4,158 MW entered advanced stages of development, including projects that have found a buyer for their energy, announced a firm turbine order, or have been announced to proceed under utility ownership.
According to the report, the full pipeline of wind farms under construction or in advanced development now totals 33,449 MW, representing a 40% increase over this time last year and the highest level since this statistic was first measured at the beginning of 2016, says AWEA.
Seven new wind farms came online across seven states in the quarter, totaling 406 MW. In total, there is now 89,379 MW of installed wind capacity in the U.S. That's more than 54,000 wind turbines operating in 41 states, plus Guam and Puerto Rico, and enough installed capacity to power more than 27 million American homes, according to AWEA.
"Word is out that wind power is an excellent source of affordable, reliable and clean energy," says Tom Kiernan, CEO of AWEA. "Our industry is consistently growing the wind project pipeline as leading companies, including utilities and brands like AT&T and Nestle, keep placing orders. Strong demand for wind power is fueling an economic engine supporting a record 105,500 U.S. wind jobs in farm and factory towns across the nation."
The full report can be downloaded here.