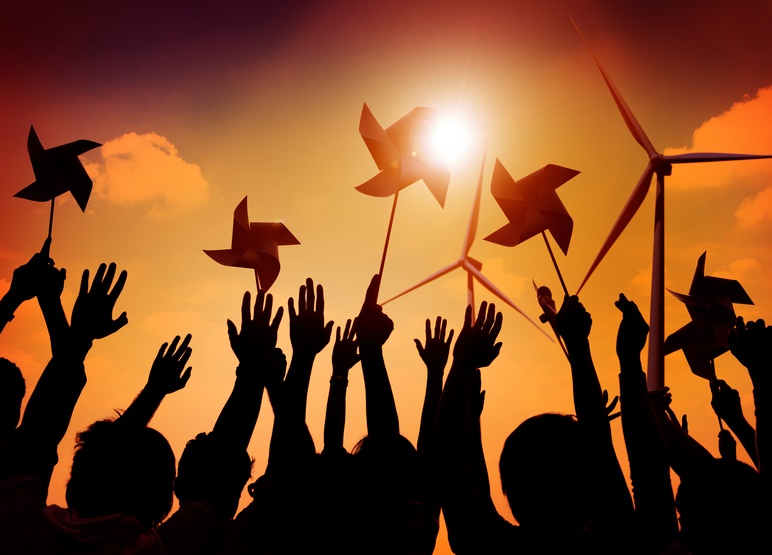 U.S. wind industry activity approached record levels in the second quarter, with over 18,200 MW of wind capacity under construction or in advanced stages of development, as utilities and other purchasers locked in record-low wind costs, according to the American Wind Energy Association's (AWEA) U.S. Wind Industry Second Quarter 2016 Market Report.
Per the report, major utilities announced plans during the second quarter to develop and own up to 2,600 MW of new wind energy generating capacity.
"There's never been a better time to buy American wind energy," says Tom Kiernan, CEO of AWEA. "Smart utilities and other customers are locking in prices at record lows by starting construction this year to qualify for the full-value PTC."
"The industry is thriving thanks to policy stability, and we appreciate support from champions in Congress for a multi-year extension of the PTC," he continues. "Wind power supports 88,000 well-paying jobs, and the wind turbine technician is the fastest growing profession in the U.S. This is what an efficient, performance-driven policy delivers – more low-cost clean energy and the American jobs that make it happen."
Congress passed a multi-year extension of the performance-based wind energy production tax credit (PTC) with a bipartisan vote late last year, encouraging utilities to invest in wind early, so they can scale up clean energy while making the most of the full-value PTC. The 2.3 cents per kilowatt-hour PTC is scheduled to decrease to 80% of that value for projects that start construction in 2017, 60% in 2018, and 40% in 2019.
After emerging from several years of policy uncertainty that placed American jobs at risk, wind energy is now on track to grow from supplying around 5% of U.S. electricity today, to 10% by 2020, and 20% by 2030, according to the report.
The 18,200 MW of current activity includes more than 12,450 MW of wind projects now under construction, with 3,000 MW in new construction announcements during the second quarter, an increase of 23% over the first quarter of 2016. AWEA says that Kansas led the nation in new construction announcements at 778 MW, followed by Iowa at 551 MW and North Dakota at 400 MW.
Enel Green Power North America Inc.'s (EGP-NA) 400 MW Cimarron Bend wind farm in Kansas is among the projects that started construction this quarter to meet demand for wind energy from utilities and emerging corporate buyers. Cimarron Bend will supply half of its power to Kansas City Board of Public Utilities, and half will go to Google, once completed.
"For EGP-NA, the first half of 2016 has been marked with rapid growth, including the announcement of more than 720 MW of new wind capacity under construction," says Jack Thirolf, senior director of regulatory affairs for EGP-NA. "Not only are we seeing capacity growth, but also diversification of power purchasers as more commercial and industrial customers are attracted to the competitive pricing and long-term stability that clean wind energy can deliver."
Further, utilities announced large-scale wind power investments during the second quarter, including the up to 2,000 MW Wind XI project by MidAmerican Energy in Iowa, as well as the 600 MW Rush Creek project by Xcel Energy in Colorado.
According to AWEA, utilities also disclosed more than 1,800 MW of wind power purchase agreements (PPAs), the second highest volume of announcements in a single quarter since the beginning of 2014. Other utilities released requests for proposals and requests for information for thousands of megawatts of new renewable capacity, which are likely to lead to new wind purchases in the near future. According to AWEA, these announcements illustrate growing utility appetite for wind energy to help keep costs low for ratepayers while also meeting clean energy targets.
AWEA states that the industry installed 169 wind turbines across four states during the second quarter, representing 310 MW of capacity. As reported, Texas led the country with 200 MW of wind capacity installed, followed by Kansas (72 MW), Nebraska (36 MW), and a single turbine installation in Iowa. Across the U.S., cumulative year-to-date installations total 830 MW. The U.S. now has an installed wind power capacity of 74,821 MW.
In a divisive election year, AWEA cites several new polls that signal wind power's broad support among the American public:
A March 2016 Gallup poll found 73% of adults say the U.S. government should "emphasize the development of alternative energy, such as wind and solar power" (up from 66% in 2011);
Lazard's Alternative Energy Poll 2016, released in March, shows 90% of likely voters favor "expanding wind power" (up 12 points from 78% in 2012); and
The same 2016 Lazard poll found 81% of self-described conservatives favor "expanding wind power" (up 34 points from 57% in 2012).
The report adds that at present, California, Oregon, Hawaii, Vermont and the District of Columbia have all increased their target standards to 50% renewable energy and beyond. Other states, such as Maryland, Massachusetts, New York and Rhode Island, have passed or are actively considering other big increases to their standards.
The full report can be found here.