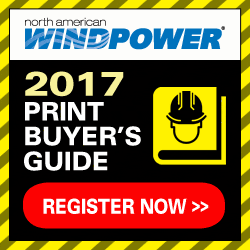 Duke Energy Renewables recently settled a U.S. Department of Justice (DOJ) case regarding the deaths of golden eagles and other migratory birds at two company-owned Wyoming wind farms. The developer says 10 golden eagle deaths have occurred at its 200 MW Top of the World wind farm since the wind farm began operating in November 2010. Duke also reported three golden eagle fatalities at its 99 MW Campbell Hill wind farm since December 2009.
Golden eagles receive federal protection under the Bald and Golden Eagle Protection Act (BGEPA). The law prohibits the taking of eagles, including killing, harassing, molesting or disturbing them or their nests. Concerns over civil and criminal liability under BGEPA have proven to be significant obstacles to the development of wind farms and have resulted in numerous stalled or canceled projects.
The developer first disclosed it was the subject of a DOJ investigation in a filing with the Securities and Exchange Commission (SEC) in May. Its SEC disclosure is no big deal: As a publicly traded company, Duke Energy is required to disclose to investors any information that puts the company at risk. However, it's noteworthy to learn about the lengths Duke is going to protect avian species such as golden eagles.
Per the settlement agreement, Duke agreed to pay a $1 million fine for the impacts, and agreed to avoid, minimize and mitigate for future impacts and conduct research into means for reducing impacts in other locations. It has employed several adaptive management techniques – such as testing the same radar systems used by the U.S. military to detect missiles in Afghanistan – to avoid additional avian impacts. The adaptive management measures appear to be working: In the September 2012 to December 2013 time frame, Duke had zero golden eagle fatalities at either wind farm.
But this isn't merely an instance of a developer doing the right thing after getting penalized. Duke maintains it has always self-reported instances of avian deaths to the U.S. Fish and Wildlife Service. In its release, the DOJ even commended Duke for its forthcoming manner.
"We know a whole lot more now than we did in the early 2000s – even five years ago," Tim Hayes, Duke Energy Renewables' environmental director, told NAW this past summer. "We're just starting to get an understanding of the issues. It's been a learning process for the entire industry."
Kudos to Duke for taking such a proactive role in protecting avian species. Doing so puts the company – and by extension, the wind industry – in a positive light. w
Wind Bearings
Wind Bearings