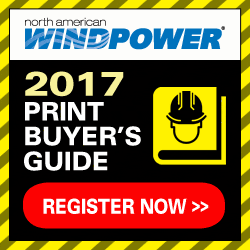 Everything about the 845 MW Shepherds Flat wind farm relates to the sheer size of the project. The project, developed by Caithness Energy, is one of the world's largest and was the biggest single wind farm to come online in 2012.
The site, located across 30,000 acres in Gilliam and Morrow counties, Ore., features 338 GE 2.5xl wind turbines. The project's investors include Google, ITOCHU Corp. subsidiary Tyr Energy, and Sumitomo Corp. of America, which collectively invested approximately $500 million in the project.
However, while the wind farm garnered industry headlines, its size also added to its complexity. For example, Caithness Energy was not able to source the necessary debt and equity capital in the markets in order to finance the project as a whole. Therefore, the developer divided the project into thirds and financed each segment separately.
The projects (and their ownership structures) are as follows:
Shepherds Flat North (owned by North Hurlburt Wind LLC), a 265 MW project that came online in February 2012;
Shepherds Flat Central (South Hurlburt Wind LLC), a 290 MW wind farm that became operational in August 2012; and
Shepherds Flat South (Horseshoe Bend Wind LLC), a 290 MW project that became operational in July 2012.
The wind farms were completed in time to qualify for federal incentives, such as the production tax credit, and state programs, such as Oregon's Business Energy Tax Credit. (For more information on wind in Oregon, see "What is Oregon's Long-Term Outlook?".)
The wind farms have performed well in their first full year of operation, explains Derrel Grant, vice president of development at Caithness Energy. He says project availability at the three wind farms has been better than 95% when compared with similar wind turbines.
Southern California Edison (SCE) is Shepherds Flat's off-taker via a long-term power purchase agreement. According to a utility spokesperson, the energy produced by the wind farm will flow to major load centers along the West Coast, such as Portland, Ore.; Seattle; northern California; and even central and Southern California.
"While SCE customers may not be using the exact electrons created by the wind farm, SCE will be credited with the renewable attributes from the power created by the turbines," the spokesperson says.
Challenges
So how did Caithness Energy – largely a New York-based private-equity firm with a handful of experience building wind farms – pull it off? Well, the company combined its in-house expertise with that of its vendor partners, such GE Energy Financial Services, Blattner Energy – the project's balance-of-plant (BOP) contractor – and several wind industry consultants.
According to Grant, planning and logistics for each of the three projects began prior to execution of the BOP and turbine supply contracts.
"Caithness hired the projects' construction managers soon after it had obtained a site certificate for each wind farm in order to obtain their assistance during pre-planning and contract negotiations," Grant says. Additionally, a high volume of work was done before contract negotiations in order to ensure that initial logistics planning was finalized among the parties once contract negotiations commenced.
Armed with eight years of on-site data from 13 meteorological towers, early plans produced a physical layout plan that allowed for 303 turbines.
"Our transmission provider, Bonneville Power Administration, determined the aggregate size of the wind farms when it offered a total interconnection capacity of 846 MW," Grant explains. "Dividing the amount of interconnection capacity by the 2.5 MW capacity of the wind turbines selected for each project yielded a total of 338 wind turbines."
"There were some early manufacturing delays," admits Grant, but all parties worked together to get back on schedule.
Ultimately, Caithness overcame the challenges by relying on its partners' planning, siting and construction expertise, which "helped anticipate challenges and devise solutions," Grant explains. He adds, "It took a tremendous amount of teamwork."
During construction, a nearby air base had voiced concerns that operating wind turbines would interfere with the radar system.
Generally speaking, wind turbines can be indistinguishable from airplanes on many radar systems and cause blackout zones in which planes disappear from radar entirely.
At the time of construction, David Belote, executive director of the U.S. Department of Defense's (DOD) energy siting clearinghouse, told NAW that wind turbines can negatively impact several areas of defense operations, such as border surveillance, flight training and military readiness. In addition, he said, clusters of wind turbines look similar to storm activity on weather radar, making it harder for air traffic controllers to convey information to pilots.
"It really depends on the specific military mission as to what the radar impact would be," Belote said.
However, after a thorough study, the DOD found that the project's wind turbines would not cause any interference with radar systems, and no modifications were made to the wind turbines. w
Project Profile: Shepherds Flat
To Build A Monster, Developer Works In Thirds
By Mark Del Franco
To complete the 845 MW Shepherds Flat wind farm – the largest project to come online in 2012 – Caithness Energy carved up the massive project into manageable segments.
NAW_body hyperlink dept_byline NAW_body_i NAW_body_bi NAW_body_b_i NAW_body_b
NAW_first_graph
NAW_depbio
NAW_sub
NAW_last_graph
NAW_SH
NAW_SH_no_rule
NAW_SH norule
NAW_SH_norule
NAW_SH_first_item
pullquote
sidebar_headline